Alica Schmidt: The Gorgeous Olympic Track And Field Star Everyones Talking About
The 2020 Summer Olympics are set to begin in Tokyo on July 23, 2021, almost exactly one year after they were originally supposed to start in 2020. However, due to the global COVID-19 pandemic, the Summer Games faced a delay, being postponed due to concerns over athletes' and attendees' health and safety. After much anticipation, though, the Games are almost here, and athletes are competing in their national Olympic trials to determine if they'll be able to travel to Japan to represent their country. One such athlete to make her nation's Olympic Track & Field team is Alica Schmidt, a sprinter who will compete in the 4×400 women's relay, as well as the 4×400 mixed relay, an event that is making its Olympic debut this Games, per Daily Star.
And while Schmidt is well-known and well-lauded for her athleticism and skill, having clinched the silver at the 2017 European Athletics U-20 Championship in the 4×400 relay and the bronze in the U-23 Europeans in 2019, reported the New York Post, she has made a name for herself in a variety of other ways, too.
Keep scrolling to find out just who Alica Schmidt is and why she has everybody talking about her.
Alica Schmidt has been dubbed the "World's Sexiest Athlete"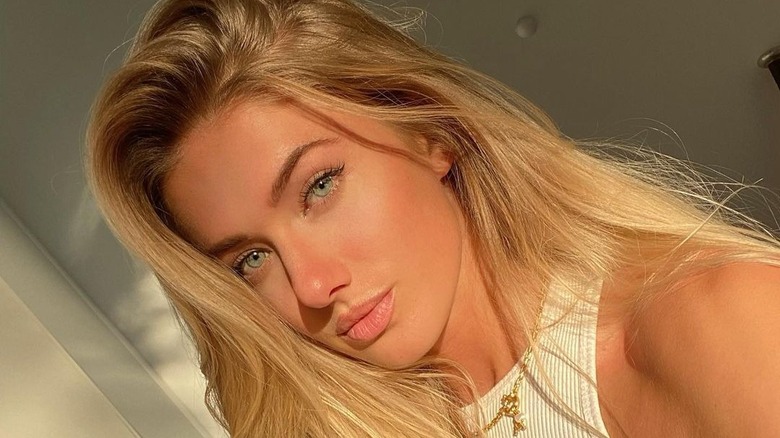 According to numerous publications, Alica Schmidt, the German Track & Field star, has been dubbed the "world's sexiest athlete." The moniker has shown up all over the internet, from the New York Post to the Daily Star to even Maxim, though it reportedly first showed up on the college-focused publication Busted Coverage in 2017. The post went viral, according to Maxim, and the nickname stuck. It's no surprise why people would assign such a name to Schmidt, as her long, lean frame honed by hours of training, along with her luscious blond locks and gorgeous facial features give her a supermodel-like look. And although the article in Busted Coverage helped make Schmidt a household name in the United States, it doesn't seem to be something she's focusing on.
In fact, Traveler Master reported that Schmidt was actually approached by Playboy to model for their magazine, due to her viral success. However, the publication stated that she ultimately turned it down, and actually questioned why people would be interested in her looks over her athletic achievements. She allegedly said, "I do not know why I got this title," referring to the "world's sexiest athlete" moniker. "Sport clearly comes first," she concluded.
But even though she seems focused and dedicated to her sport, she hasn't shied away from all publicity.
Alica Schmidt has a large following on Instagram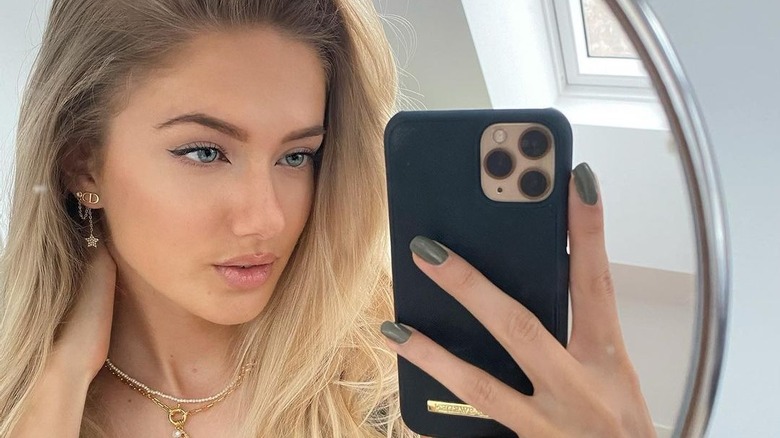 Like any media-savvy star in the 21st century, Alica Schmidt has taken the opportunity to grow her brand on Instagram. The Olympic-bound athlete has a significant following on the social media site, boasting an impressive 1.8 million followers as of this writing, a number that is surely only going to grow as she makes an appearance at the Tokyo Summer Games. On her account, Schmidt shows off her incredible physique, playing into that "world's sexiest athlete" moniker.
But that's not all she uses her account for. While she definitely highlights her athleticism, posting pictures of herself from various meets and during her training, she also shows glimpses of her life outside of the sport. Schmidt appears to be an avid fan of traveling, posting images of her throughout the world prior to the COVID-19 pandemic. And recently, she uploaded an image of her in France, captioning the upload with "can't wait to travel again."
She also is a proponent of healthy eating and uses her Instagram to share details about her eating habits and how that helps her training regimen. In fact, she once shared via a post that her family "always says that food is my favorite topic." She told her fans that she liked to "eat as healthy and clean as I can" and that she "love[s] to cook," a hobby she occasionally documents online.
Alica Schmidt has some killer endorsements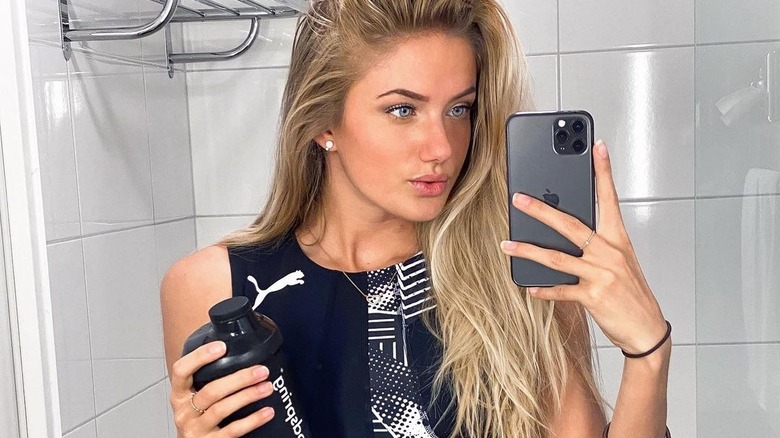 While she uses her large Instagram following to showcase her life and training routines, Alica Schmidt also relies on her social media account to highlight some of the endorsement deals she has made over the past few years. She seems to have had promotional agreements with a variety of food organizations, which are peppered throughout her Instagram, like a pasta company and a snack box company.
Schmidt also has active endorsement deals with Foodspring and Puma (as seen in her Instagram bio). Foodspring is a German "fitness food" company, per its official website, and Schmidt often posts images of herself with the brand's products. Additionally, she has partnered with Puma to be one of their brand ambassadors, as seen on their website. In 2018 she took part in a commercial for the brand, with a voiceover answering the question, "Why run?" The extended version shows Schmidt — decked out in Puma gear from head-to-toe — running through the streets of Berlin. 
Puma is still Schmidt's official sponsor, so it wouldn't be surprising to see her rocking the brand while competing in Tokyo.
Alica Schmidt is focused on the future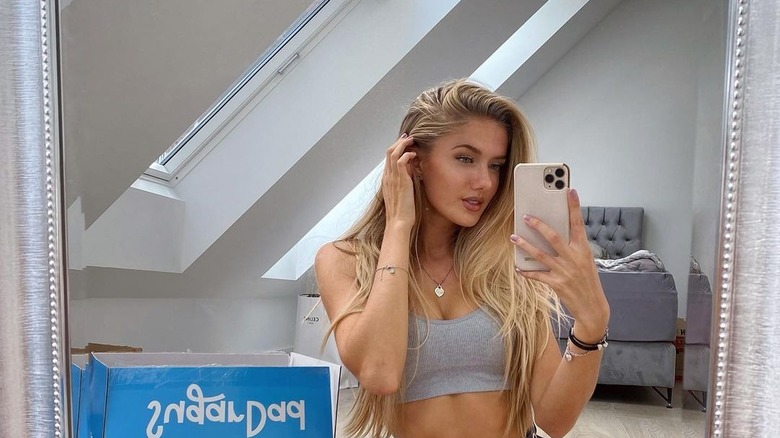 Though Alica Schmidt is relatively young for a Track & Field athlete (she's 22 years old, according to the New York Post), she seems to be planning for a life off the track as well. As seen on her Instagram, alongside her rigorous Olympic training schedule and her endorsement requirements, Schmidt is also taking classes at Hochschule ​​Fresenius University of Applied Sciences in Germany. Via a series of Instagram Lives, Schmidt has been sharing her education journey with her fans. She shared in one of the videos that she is studying Media and Communications Management and has been doing so since October 2018.
Schmidt has also answered many questions from her fans about the process of her specific university study, as she has been enrolled in distance learning prior to the COVID-19 pandemic. She said she chose that method of study because it allowed her to simultaneously go to school and continue training at the high level she needed in order to be globally competitive. 
It seems like Schmidt is well on her way to achieving her goals both athletically and academically and should have very little trouble ensuring her future success.
Source: Read Full Article