An Unabashedly Thirsty Timeline of Zac Efron and Vanessa Valladares's Cute Relationship
In case you don't spend your time scrolling through Zac Efron fan accounts (10/10 would recommend), please be advised that he's in a relationship with Australian model Vanessa Valladares. Oh, and they've been official since summer 2020, so yes: it's serious. Almost as serious as Zac Efron's angry dance in High School Musical 2.
Zac and Vanessa are pretty private about their relationship, but if there's one thing I've learned from watching HSM over and over again, it's that WE'RE ALL IN THIS TOGETHER. Truly, you can BET ON IT bet on it BET ON IT bet on it. Kay I'll stop, but only because we've put together a timeline of Zac and Vanessa's relationship, which—please be advised—is very cute. On that note, let's throw this back to summer 2020:
Circa July 2020
Zac and Vanessa meet at a cafe! As a source tells Us Weekly, "Zac met Vanessa while she was an employee at the Byron Bay General Store & Cafe in June. Things moved quickly, and Vanessa spends most nights at Zac's house. They are both very smitten with each other."
Here's the fated location in question, so you can get a general sense of vibes:
https://www.instagram.com/p/CNHg8DQpPKz/?utm_source=ig_embed&utm_campaign=loading
A post shared by The Byron Bay General Store (@byron_general_store)
Circa September 2020
Zac and Vanessa are seen enjoying lunch in some photos exclusively obtained by The Daily Mail. On top of that, People reports that Zac has been house-hunting and "plans on staying in Australia permanently." Things! Are! Serious!
October 18, 2020
It's Zac's birthday, duh. And according to E! News, Vanessa throws him a party attended by some pretty well-known names including radio host Kyle Sandilands. Kyle goes ahead and spills details on the Kyle & Jackie O show, saying "[Vanessa] knew everything. She put the whole thing together. She's a sweetheart…. He absolutely loves Australia. Well, he's in love with this girl Vanessa. They're lovely. Beautiful couple. They do everything together. They're just really sweet and they're lovely."
Please note that around this same time, I made the below artwork, which has since been hung in the Louvre: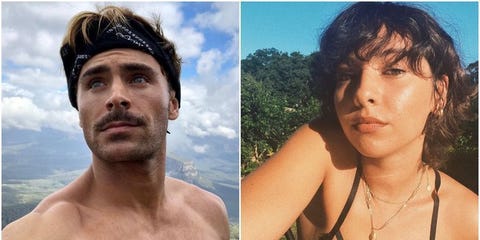 November 30, 2020
Reports emerge that Vanessa and Zac have broken up just as I start to ship them. A source claims the following to The Sun:
December 30, 2020
Plot twist! Previous reports are wrong! Us Weekly confirms that Zac and Vanessa are doing amazing, with another source musing, "Zac's loving his life in Australia. He's settled down and very happy with his girlfriend. It's serious. He's living eight hours outside of Sydney. Nobody bothers him. He hangs out with the Hemsworths. He goes surfing. He's coming a long way from partying in L.A."
January 9, 20201
Zac and Vanessa make a rare public outing, and by public outing, I mean they're photographed by paps going to dinner: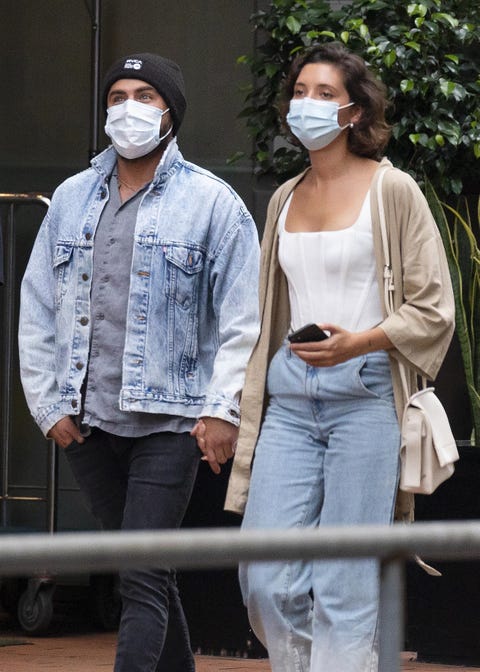 Love to see responsible celebs wearing masks!
April 1, 2021
After being spotted hiking in New South Wales following months of reclusiveness, a source tells E! News that "[Zac's] very happy being with Vanessa and living in Australia. It's changed his life for the better."
So happy for these two! Now let's cut to the chase and take a moment to watch this:
You love celeb relationships. So do we! Let's overanalyze it together.
Source: Read Full Article