Ariana Grande Fangirls Over Christina Aguilera on Date Night With Dalton Gomez at Hollywood Bowl
Enjoying the night out with her husband and some friends, the 'Positions' hitmaker could be heard screaming enthusiastically when the 'Reflection' songstress showing off her iconic signature vocal riffs.
AceShowbiz –Ariana Grande makes it clear that she is a fan of Christina Aguilera. The "Positions" hitmaker could be heard "screaming" hysterically as she attended the "Reflection" singer's Hollywood Bowl show with her husband Dalton Gomez.
The 28-year-old singer took to her Instagram Story on Saturday, July 17 to share moments from the night out. "!!!!!!!!!!!!!!!!!! @xtina screaming," the two-time Grammy Award winner gushed over Christina, who performed her 2003 single "Fighter" onstage. "I love you. Congratulations to you & the @laphil on a STUNNING show," she continued.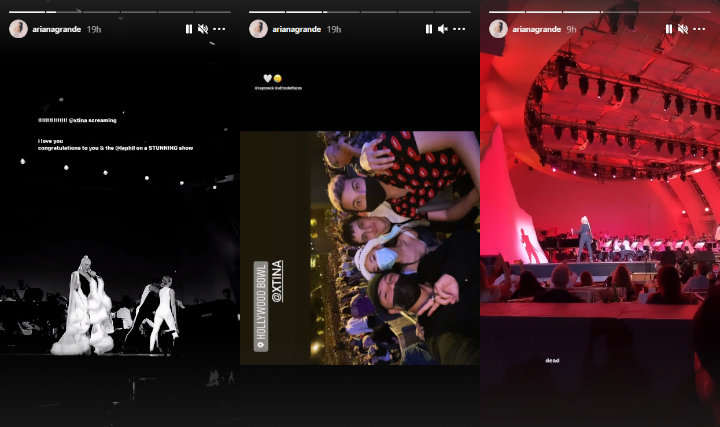 Ariana Grande shared moments from Christina Aguilera's Hollywood Bowl show.
In a following Story, Ariana could be heard screaming and cheering as Christina sang her 2006 hit "Ain't No Other Man", showing off her iconic signature vocal riffs. "Dead," the "God Is a Woman" songstress captioned the video.
In a separate snap, Ariana also posted a photo with her husband Dalton and her friends Alfredo Flores and Ray Rock. The "7 Rings" singer was wearing a white knitted bucket hat with a blue face mask as she posed with the group. She simply captioned the photo with a white love emoji.
As for Ariana and Dalton, who got married on May 15, a source told ET that the newlyweds have "really been enjoying married life." The source spilled to the outlet, "Ariana is happy and feels very relaxed." The insider added, "She feels like she is entering a new chapter of life and is excited to see where it goes."
"Ariana and Dalton felt like before they were married they couldn't be as open about their relationship without it being scrutinized in the media and now they feel way more at ease," the source continued. "They have plans to travel more together and feel closer than ever."
The so-called inside source also claimed that the two enjoy "making unified decisions." The source said, "Ariana is Dalton's first priority in everything that they do and he really values her and shows it," noting that Ariana "loves that Dalton is super chill and how understanding he is of her."
Source: Read Full Article