Best Dressed At The 2021 MTV VMAs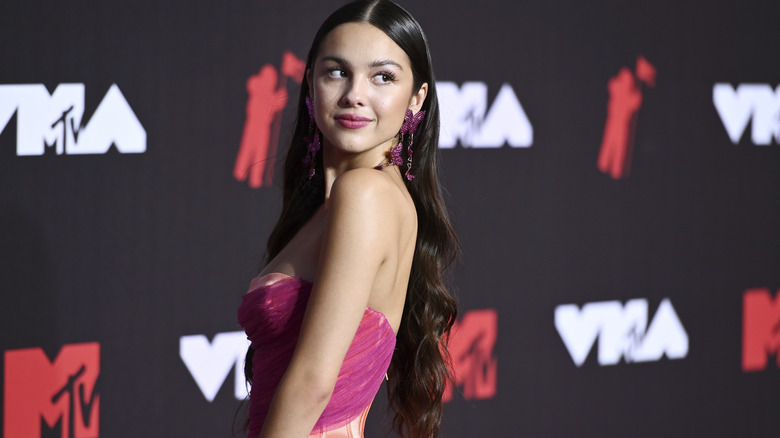 Noam Galai/Getty Images
By Melissa Willets/Sept. 12, 2021 8:09 pm EDT
Doja Cat. Olivia Rodrigo. Kacey Musgraves. What do all of these celebs have in common, other than the fact that we bow down to their musical talent? They are also on our Video Music Awards best dressed list.
The stars all showed up on the VMA red carpet on September 12, 2021 playing off a few very interesting outfit themes. First and foremost, it seems the marching orders for the night were to wear some iteration of the colors purple, red, and pink. And the talented singers on our list all got the memo — with one notable exception. 
Meanwhile, many of the stars we picked were also inspired to don mega-sized accessories, from gigantic earrings, to one pop princess who went minimal with jewelry, and instead supersized the bow on her gown.
Lil Nas X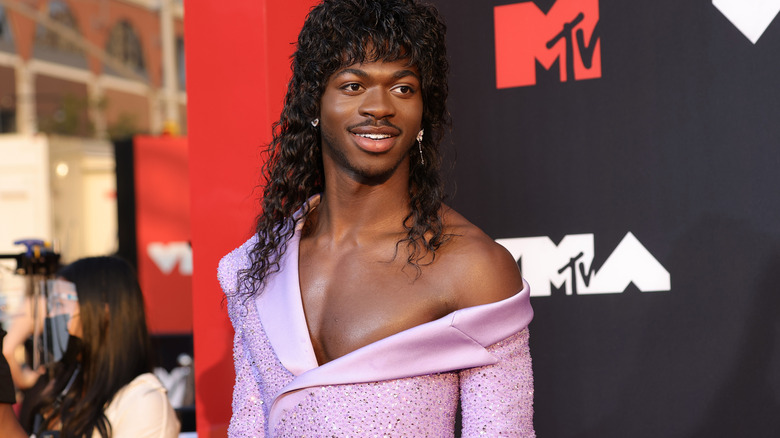 All we can say is "yes!" Lil Nas X showed up on the VMA red carpet dressed in a lilac, off-the-shoulder gown with matching pants and boots that let the world know the rapper is proud of being exactly who he is (via Twitter). The star came out as gay in 2019, and since that time, has become an LGBTQ+ role model (via Variety).
Fans were all about the look, with one tweeting, "What an entrance." Someone else said, "@LilNasX 's outfit for the vmas is stunning omg and the hair." Meanwhile, other Twitter users were saying Nas was giving off Prince vibes.
The pop star's buzzy-worthy appearance at the VMAs comes on the heels of Nas promoting his new album with a pregnancy photo shoot, which created some backlash from people who were upset about a fake baby bump (via Capital FM and Insider). 
Kacey Musgraves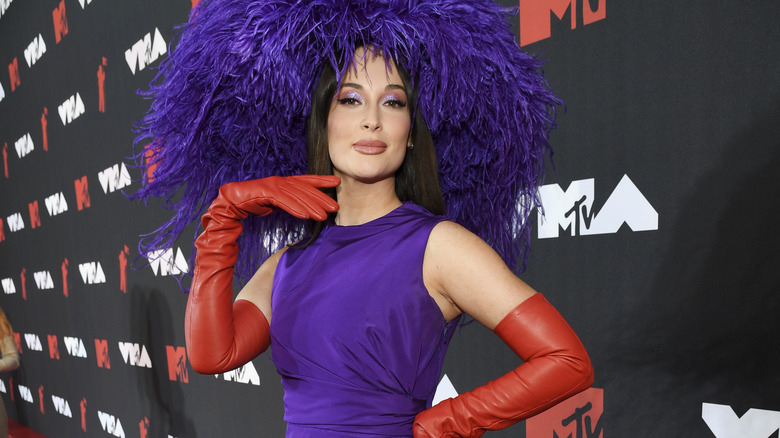 Purple certainly seems to be a theme on the VMAs red carpet! Hot on the heels of Lil Nas X arriving in lilac, country crooner Kacey Musgraves showed up donning a deep purple, draped mini dress, complemented by an over-the-top, feathered headpiece, and red leather gloves. The look was inspired by Valentino's Fall 2021 collection (via Vogue).
The unconventional designer outfit immediately sparked conversation on Twitter, with one user joking the singer was giving off Dr. Seuss vibes. 
A fan however noted, "i love how this is something you wouldn't see anywhere else." 
Well, that much is definitely true!
Doja Cat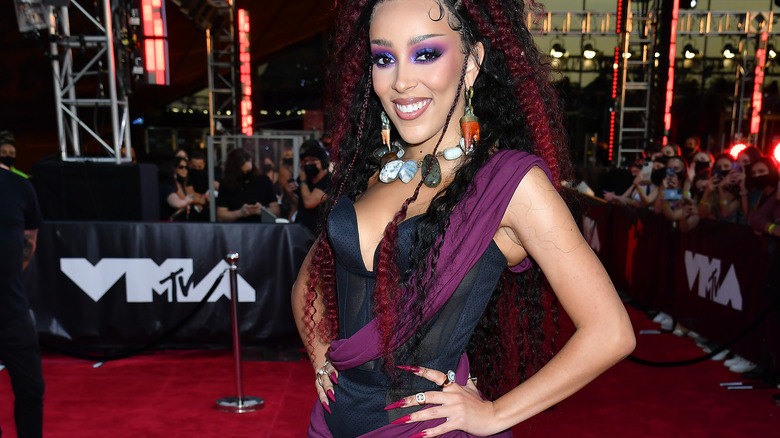 Another meditation on the color purple came to the VMAs courtesy of the night's host, Doja Cat. Like Musgraves, the star paired purple with red. In her case, the singer donned long, red nails and knee-high latex boots, as well as a sexy bustier top draped with magenta fabric, and accented the look with oversized accessories.
Twitter was in favor of the look, with one person tweeting that Doja Cat was "the icon of the night." Other fans called her outfit "gorgeous" and "amazing," with several eagle-eyed Twitter users noting that the outfit was designed by Vivienne Westwood.
Meanwhile, according to Page Six, the arrival outfit is only one of the host's four planned looks for the evening.
Camila Cabello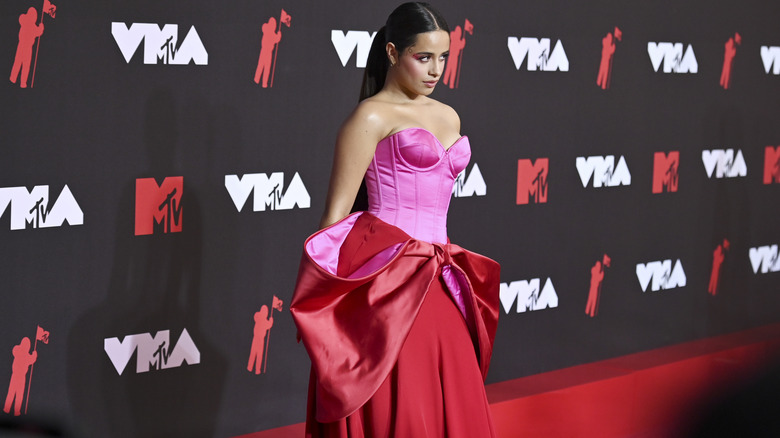 Camila Cabello went in a slightly different direction with her color choice for the evening, wearing red and pink together in the form of a dramatic ball gown with a sexy bustier top. According to Page Six, the dress was designed by Alexis Mabille Couture. 
Twitter fans quickly lost their minds over the look, with someone calling the ensemble "stunning," and another fan saying, "perfection defines camila cabello." "Yes our beautiful princess," another fan enthused, referencing the singer's recent portrayal of the titular character in "Cinderella" (via IMDb).
Meanwhile, it seems another pop princess' gown was incredibly similar to Ms. Cabello's.
Olivia Rodrigo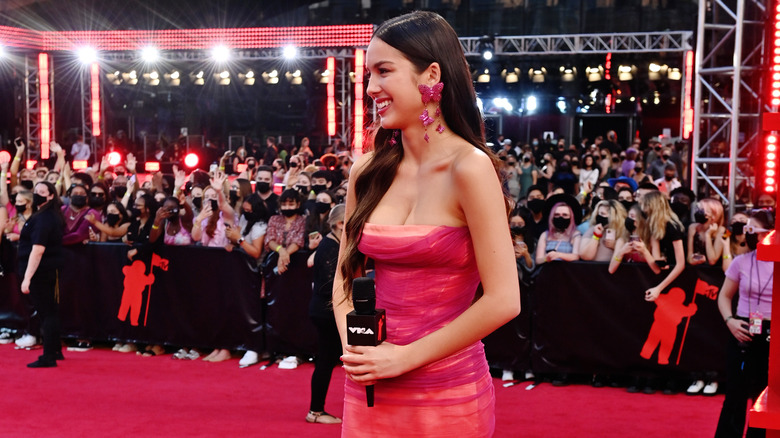 Also wearing a pink and red gown? Olivia Rodrigo, who chose a body-hugging dress instead of a princess-inspired ball gown for her VMA look. The star accessorized her dreamy Atelier Versace dress with a pair of oversized butterfly earrings (via Page Six).
Ultimately, it's undeniable that the best looks of the night had a common theme that centered around pink, red, and purple hues, as well as look-at-me jewelry in many cases. The vibrant attire set the stage for a night music fans won't soon forget, with performances by Ed Sheeran, Doja Cat, Lil Nas X, Kacey Musgraves, and so many more mega-stars (via Pitchfork).
But someone wasn't playing along — and the results will have everyone talking.
Megan Fox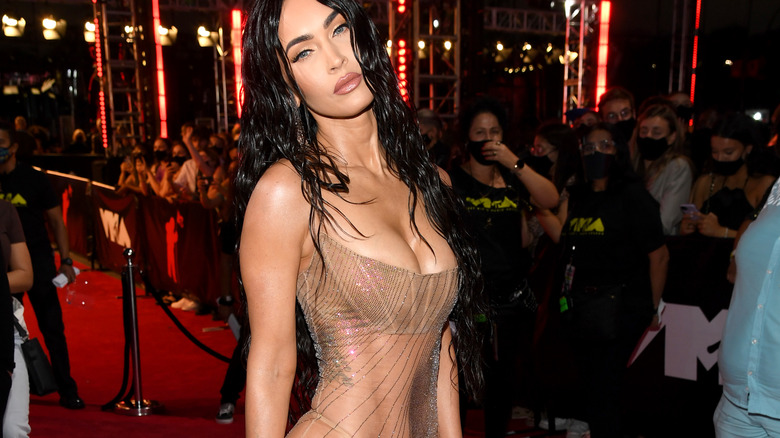 Well, one star didn't get the memo about wearing purple or pink and she is none other than Megan Fox, who, well, left little to the imagination with her VMAs look. The actress sported a very see-through gown for the musical evening, and gave off serious sultry vibes as she walked the red carpet.
Of course, Fox is always game for showing a lot of skin at events, with Page Six devoting an entire article to her most daring ensembles. Still, we are betting this one, which could have been inspired by Kim Kardashian's so-called "wet dress" at the 2019 Met Gala, ranks up there (via The Sun).
Source: Read Full Article