Everything We Know About Mike Richards Becoming The Permanent Jeopardy! Host
"Jeopardy!" is reportedly very close to finding a new host to replace the late Alex Trebek. Trebek was the longtime host of the legendary game show, having served as the face of the series from 1984 until his death from pancreatic cancer in November 2020. Trebek continued to film new episodes of the show until mere days before he passed away, and executive producer Mike Richards was one of those who opened up about Trebek's last few shows. 
Richards told Extra in November 2020 about how the star continued to show his dedication to the show while on set for the final time. "He had surgery about three weeks ago and I thought, 'He's definitely not gonna be back for these tapings.' And he would get very stern with me. He'd go, 'No, I'll be there.' And — God love him — he was," Richards told the outlet. He also described Trebek's final day on set a "good day" and added, "In every sense of the word, he peacefully left."
Well, now it's actually Richards who's being eyed as Trebek's potential permanent replacement. Read on for what you need to know.
Mike Richards is reportedly in 'advanced talks' to take on Alex Trebek's role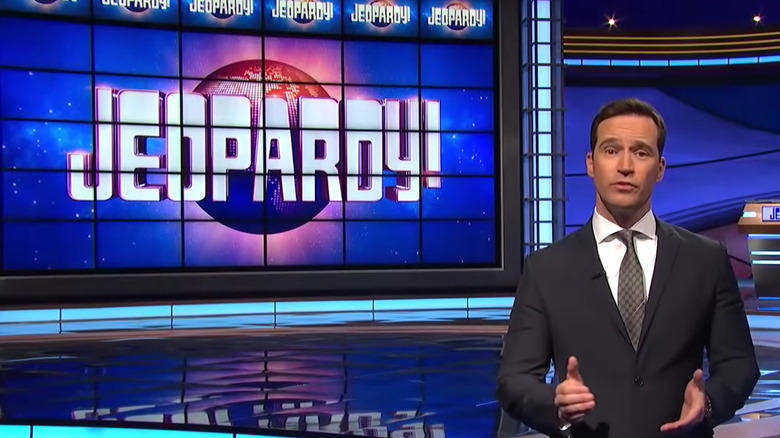 According to an August report by Variety, Mike Richards is said to be in "advanced talks" to become the host of "Jeopardy!" As avid watchers will know, Richards took on hosting duties in February as a series of guest hosts have been trying their hand at the show in the wake of Alex Trebek's passing, including Robin Roberts and Aaron Rodgers. 
Sony Pictures Television is yet to officially confirm the news, only telling Variety that there are "several potential candidates" for the late Trebek's role. A source also shared "there's no certainty that the sides will close a deal" and claimed there are "other candidates" who "remain in the mix."
Richards does have a pretty impressive resume, though. Per his IMDb page, he's also appeared as a host on "Divided" and "The Pyramid," while serving as producer on a number of other major game shows including "The Price is Right," "Let's Make A Deal," and "Who Wants to Be a Millionaire." 
Richards also previously spoke about what would happen to the show after Trebek's death in November 2020. When asked about who would potentially replace the legendary host that same month, he told Extra, "When you have a legend like that, you don't try to fill the shoes. You put someone in that honors their legacy." We couldn't agree more.
Source: Read Full Article