Guardians of the Galaxy Vol. 3 Has Two Post-Credits Scenes & Heres What Happens in Them Spoiler Alert!
Guardians of the Galaxy Vol. 3 has hit theaters and like every other Marvel movie, you definitely need to keep watching until the VERY end!
The latest Phase 5 film is the final in the Guardians trilogy from director James Gunn and is looking to open to about a $110 million start at it's opening weekend box office, according to Deadline.
In the latest endeavor, our beloved band of misfits are settling into life on Knowhere. But it isn't long before their lives are upended by the echoes of Rocket's turbulent past. Peter Quill (Chris Pratt), still reeling from the loss of Gamora (Zoe Saldana), must rally his team around him on a dangerous mission to save Rocket's (Bradley Cooper) life—a mission that, if not completed successfully, could quite possibly lead to the end of the Guardians as we know them.
The second title in the MCU's Phase 5 has two scenes at the end during the credits, so you should definitely remain seated to catch what happens. However, we also have the spoilers for you right here!
Find out what happens in the Guardians of the Galaxy Vol 3 post-credits inside…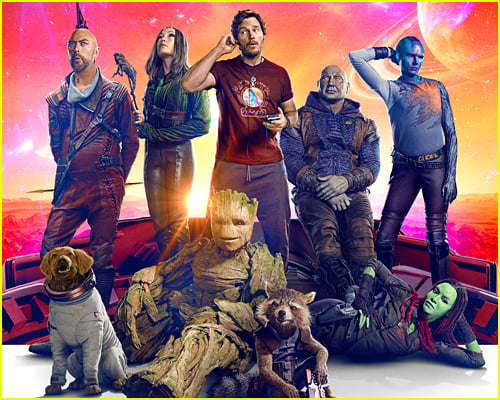 Guardians of the Galaxy Vol 3 Post-Credits Scenes SPOILERS
Mid-Credit Scene
Gathered in a desert area, we see a new Guardians of the Galaxy group featuring Rocket Raccoon, a young Phyla-Vell (Kai Zen), Adam Warlock (Will Poulter), Cosmo (Maria Bakalova), and Kraglin (Sean Gunn). They're all sitting around as they each share their favorite songs from Rocket's playlist.
This is when the local villagers start screaming as they look to the horizon and see a horde of menacing creatures coming their way. Kraglin confidently offers to handle them on his own, however, Rocket insists they all help protect the villagers. Rocket wakes up what seems like a giant rock only for it to be a much more grown Groot emerge – reminiscent of King Groot from the comics. They form up to fight and the scene ends.
After Credits Scene
Back on earth, we see Peter Quill aka Star Lord sitting at his grandfather's table eating breakfast. Peter's grandfather is reading a newspaper with a main heading of Kevin Bacon sharing about his alien abduction (an obvious nod from the Holiday Special). Quill and his grandfather banter about mowing the lawn. The scene ends and fades to white where we see a banner saying that "The Legendary Starlord Will Return."
Source: Read Full Article