Hailey Bieber Quickly Removes Picture of Her Bare Tummy Amid Pregnancy Rumors
Fans notice that the wife of Justin Bieber posts and deletes a picture of her bare belly amid rumors that she's pregnant with her and the 'What Do You Mean?' singer's first child together.
AceShowbiz -Hailey Bieber (Hailey Baldwin) was caught making a quick adjustment on her Instagram feed. Fans noticed that the wife of Justin Bieber posted and deleted a picture of her bare belly amid rumors that she's pregnant with her and Justin's first child together.
The said photo was initially included in her Friday, August 11 post. It featured her rocking a gold charm chain that read "bieber" around her bare tummy. The picture also saw the model holding her thumb in gym shorts as if she wanted to show off her bare belly with the meaningful chain around it.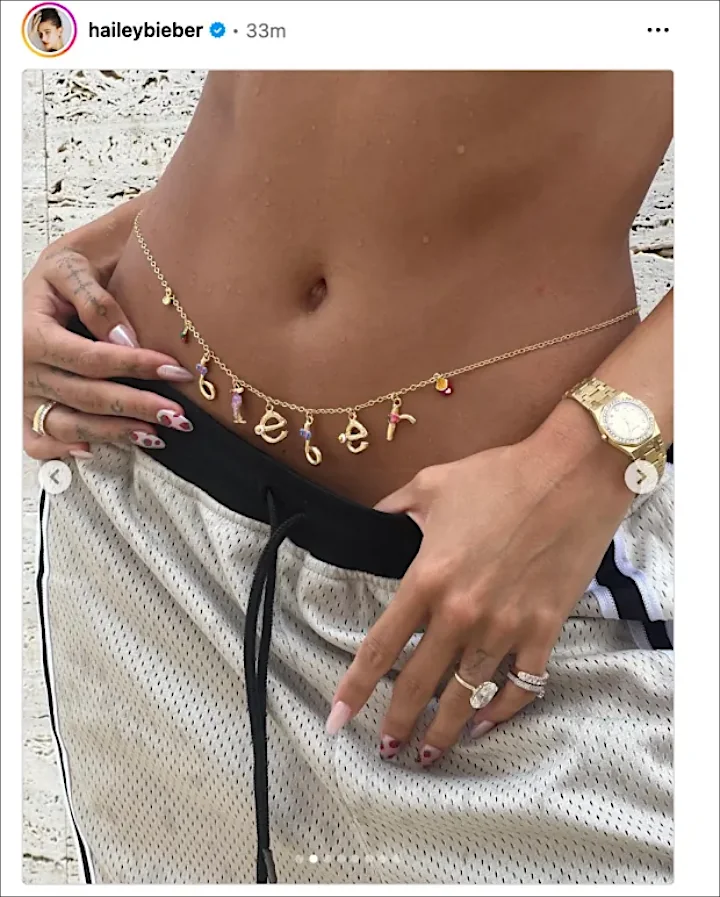 Hailey Bieber bared her tummy in a now-deleted Instagram photo.
However, the 26-year-old later took the post down and uploaded a new version of the slideshow. She omitted the bare belly photo for her new post, which she captioned with, "Is currently watching all of sex and the city for the first time ever."
Some of her famous friends flooded the comments section with Kim Kardashian asking, "Are u ok???? This is wild." Justine Skye added, "That's great but when are you gonna watch Vortex like I told you!" Vanessa Hudgens, meanwhile, wrote, "This belly chain is too cute," seemingly not realizing the re-upload.
Fans also took to the comments section to ask about the omission. "Did I miss something? Where's the belly chain lol." Another fan noted, "But im not seeing the belly chain!"
"WHY DID U DELETE THE CHAIN ITS SO DOPE," a third commenter wondered. Echoing the sentiment, a fourth wrote, "Why would u delete belly chain pic it was so cute!"
Hailey's eyebrow-raising social media activity came amid reports that she and Justin are expecting their first child together after nearly five years of marriage. Hailey was allegedly consulting with fertility doctors in December of last year and is now pregnant.
Fans also believed that she fueled the pregnancy speculation in a picture taken when she and the "Love Yourself" hitmaker attended Drake's "It's All a Blur Tour" concert at the Barclays Center stadium in New York on July 18. The said snap saw Hailey, who rocked a black crop top and pants, standing and leaning against the rails as she put her two hands on her bare tummy.
Hailey, however, appeared to shut down the pregnancy claims during an outing in late July. The daughter of Stephen Baldwin was photographed flaunting her flat abs while rocking a crop top as he exited an office building in Los Angeles.
You can share this post!
Source: Read Full Article