Lady Gaga Was Seen Kissing a Brand-New Man, and No— It Wasn't Bradley Cooper
Okay everyone, simmer TF down! I know we're currently in the heat of summer and you're probably still recovering from those steamy Shawn Mendes and Camila Cabello make out pics, but I'm gonna need you get your sh*t together because we have another rampant celebrity couple on the loose. This time, it's Lady Gaga and her shiny new man, audio engineer Dan Horton. (Yes, Horton as in Horton Hears a Who!)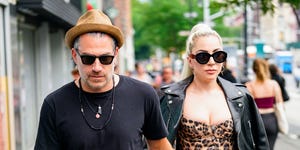 While Gaga and Dan went on a super cute brunch date (because who doesn't love brunch, let's be real), they were spotted kissing multiple times (!!!). In the pictures exclusively obtained by People, Gaga was seen wrapping her arms around Dan to go in for the kiss. The whole thing is just so much to process, but Gaga really does look like she's super happy!
A source dining near the couple said that they "seemed confident and in a good place." Another source said "They were kissing as they spoke really close up…Ironically, she had a table in the front near the sidewalk, so she was clearly okay with being seen." Ugh, we love bold Gaga! "She seemed very happy when interacting with the guy she was with," the second source added.

This is the first time in six months that Gaga was seen with another man since she split with her ex-fiancé, Christian Carino. Like Christian, Dan is in the entertainment industry as well. Specifically, he is the owner of Audio Engineering Consulting Group and has worked with some of your fave celebs like Camila Cabello, Bruno Mars and Justin Timberlake. Dan started working with Gaga since before her Las Vegas residency.
Who's excited for @ladygaga and #LG6 ? . Here are a few of her JH16 IEMs. Her first set dates back to 2010. . 📷: @dhortonaudio
A post shared by Jerry Harvey Audio (@jhaudio) on
Since Gaga has a new man in her life, this finally punches a massive hole in the Gaga-Bradley Cooper-Irina Shayk love triangle internet theories. So people can stop saying that Gaga was the reason why Bradley and Irina broke up now, 'mmkay?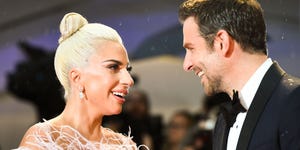 Source: Read Full Article