Lori Loughlin 'Feeling More & More Confident' That She Won't Be Found Guilty In College
Could Lori Loughlin actually get out of her legal drama scot-free? Her and her husband Mossimo Giannulli's attorneys seem to think so!
A source close to the Fuller House star told People that the couple's legal counsel believes they stand a good chance of being acquitted if they go to trial in the college admissions bribery scandal.
Despite prosecutors having evidence implicating the couple in their crimes, including phone calls and emails in which they both admit their parts in the scheme, Loughlin and Giannulli's lawyers are "feeling more confident" that the duo won't end up behind bars after all.
The insider dished:
"The more that look at the alleged evidence against them, the better they feel about the case. Everyone is feeling more and more confident that this could end well for them."
Well, that would certainly be a twist!
As we reported, the 54-year-old actress and 55-year-old fashion designer are facing up to 40 years in prison for charges of mail fraud and money laundering conspiracy. Prosecutors initially offered Loughlin and Giannulli a plea deal that would have drastically reduced their sentences, but the couple turned it down because it included jail time.
Insiders previously revealed that Lori was focused on avoiding jail time at all costs, adding that her only chance of doing so was to go to trial and be found not guilty.
According to the People source, that's exactly how Aunt Becky expects this case to pan out — thanks to a "valid defense" that will apparently support her ignorance claims. The insider explained:
"A trial drags things out and she would like to move forward, which she can't do until it goes to trial. But still, she feels like she's got a valid defense, and that when all the evidence comes out, that she won't be found guilty."
Wow. That's a confident stance coming from someone facing 40 years in prison. Is Loughlin being ignorant here, or does she actually have a shot at rowing out of this unsplintered by the law?
It's hard to say. But the couple has been cooking up quite the defense over the past few weeks…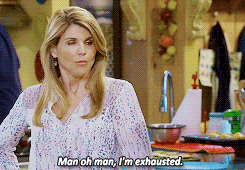 As we wrote, Loughlin is reportedly going to argue that admissions consultant William "Rick" Singer did not tell her or her husband how he'd use the money to get their daughters into USC when they allegedly paid him $500,000 — meaning, they can't be guilty of bribery because they didn't know the large sum would be used specifically for his scheme.
As for sending Singer a picture of Olivia Jade and Isabella Rose on a rowing machine, Lori is apparently prepared to argue that she didn't know Singer's plan to have her daughters designated as recruits to the USC crew team.
Basically, Lori is confident that what she allegedly didn't know won't hurt her in court. Only time will tell if she's right!
Source: Read Full Article