Meghan Markle's Unbelievable Road to Delivering a Royal Baby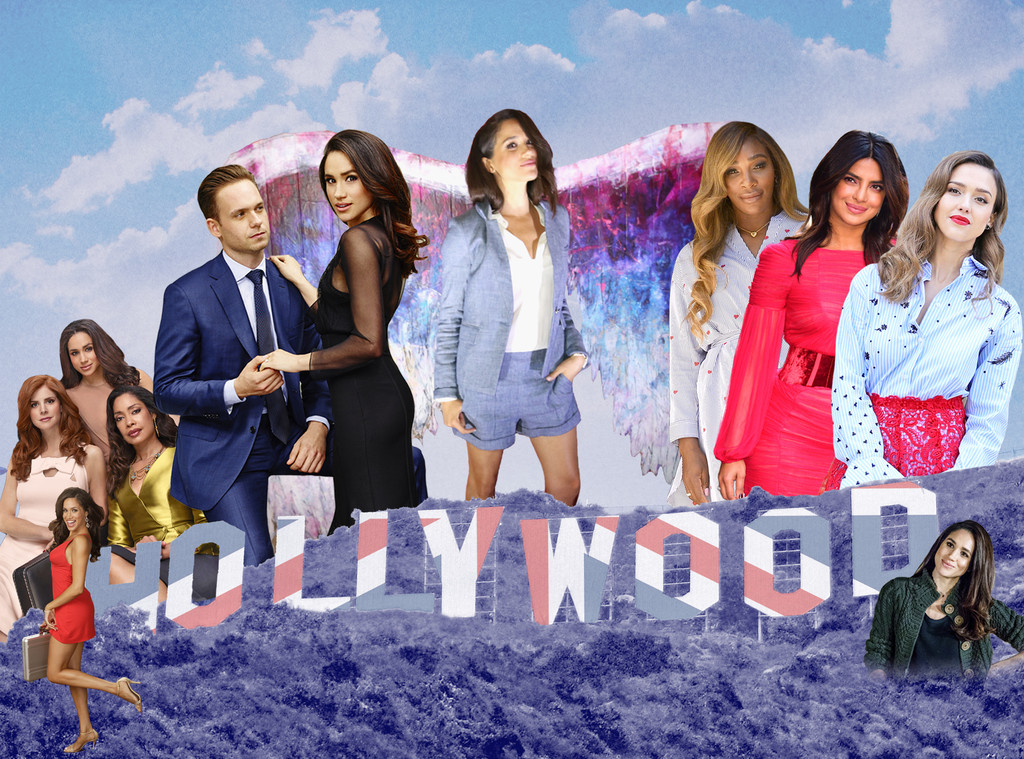 Getty Images; E! Illustration
Meghan Markle was hardly the first commoner, or even the first American, to marry into Britain's royal family.
Members of the sprawling clan have been settling down with people devoid of titles and not of noble birth for years. Even future queen Kate Middleton, now formally Catherine, Duchess of Cambridge, was merely the daughter of self-made millionaires when Prince Williammet her at university. Of that generation alone, Princess Anne's daughter Zara Tindall, married a rugby player. Princess Eugeniejust tied the knot with a tequila brand ambassador. And 82 years ago, King Edward VIII abdicated his throne so he could marry twice-divorced Wallis Simpson of Pennsylvania.
But these royals had not gone Hollywood yet.
Not that Meghan, Duchess of Sussex, would have ever described herself as "Hollywood," despite having been gainfully employed as an actress up until she got serious with Prince Harry, and having actually grown up in La La Land itself.
What the brand-new mom is, at heart, is a California girl.
"I can play dress-up, but I was born and raised in L.A. I'm used to no makeup, flip-flops on, really chill," the actress said in an interview in Miami Livingbefore Suits returned for a sixth season that July.
Meghan later told Vanity Fair that she met Prince Harry in July 2016, but in their engagement interview she said they had "a good five, six months almost with just privacy" before they were first outed as a couple on Oct. 31, 2016. Whether she knew the royal or not by then, she was perfectly chill while sipping rosé and munching on zucchini carpaccio (which she quickly took a snapshot of for Instagram) on the patio of an Italian restaurant in SoHo while giving that interview.
Though no one could have guessed that in two years time she'd have a wedding that an estimated 1.9 billion people took at least a minute out of their days to watch, her Suits character Rachel was newly engaged—so that had been fun, living vicariously through the ambitious paralegal she had played on cable for five fears.
"When Rachel got engaged, oh my god, I have never in my life been in more restaurants where someone sends over a glass of champagne to say congratulations," she said. "I'm like, 'but I'm not getting married, my character is.' People are like, 'We're so happy for you, you're getting married!' I'm like, 'No, I'm not, but sure, thanks, I'll take it.' I love a glass of bubbles."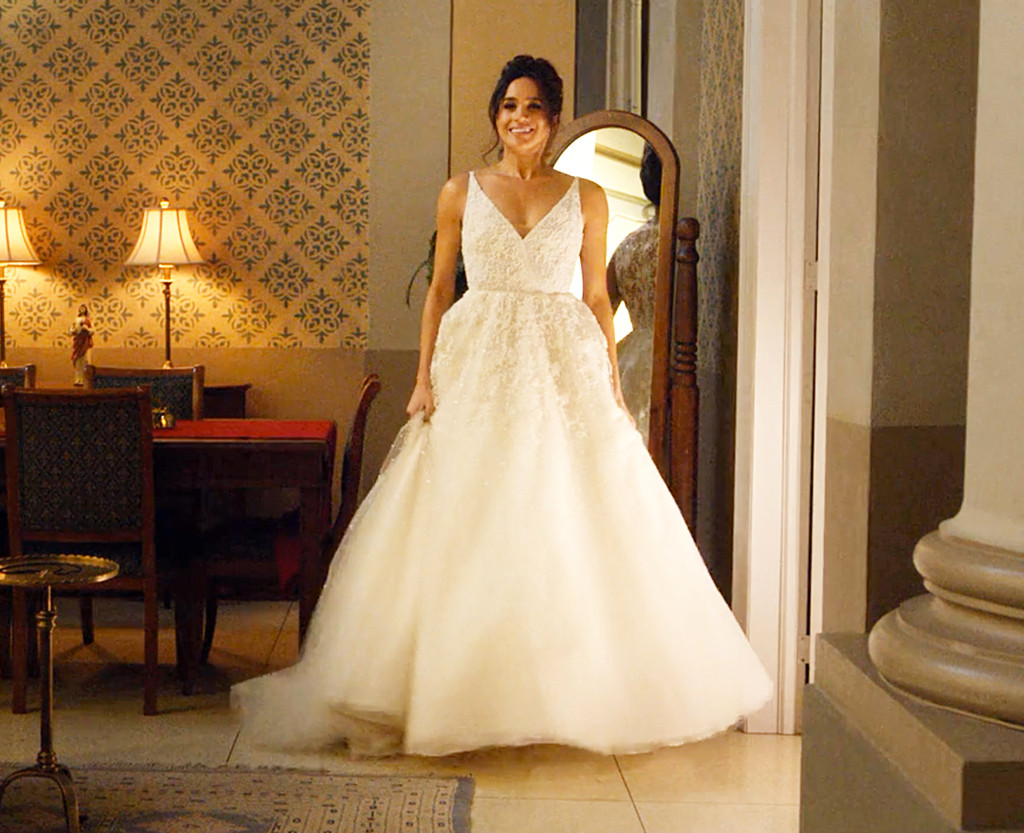 USA Network
While her SoCal upbringing is moving further into the distant background for royal watchers who care far more these days about what sort of neckline the Duchess of Sussex is sporting, what brand of coat she's wearing, what she's telling people when out and about on official engagements and how she's getting on with her staff, in-laws and the local press, she did spend her formative years in Los Angeles, and her mother still lives there—in View Park-Windsor Hills, if you want to talk coincidence.
So, you can take the girl out of California, but…
Rachel Meghan Markle was born at 4:46 a.m. on Aug. 4, 1981, at the since-closed West Park Hospital in the San Fernando Valley's Canoga Park neighborhood to Doria Ragland, who's originally from Ohio, and Thomas Markle, who grew up in Pennsylvania. Her parents met on the set of General Hospital, where Doria was a makeup artist-in-training and Thomas was the lighting director. Thomas' Emmy-winning lighting work for soap operas and his role as director of photography on Married… With Children acquainted Meghan at an early age (she wasn't actually allowed to watch Married…With Children yet) with how TV shows were made.
"He was just so, so happy," Thomas Markle Jr., Meghan's half-brother, told royals biographer Andrew Morton about their father following Meghan's birth. "He spent every single minute he could with her. My dad was more in love with her than anyone in the world, and that included Doria. She became his whole life, his little princess."
Thomas' kids from his first marriage, Tom Jr. was 14 and his older sister Yvonne (who later started going by Samantha) was 16 when Meghan was born. Tom Jr. warmly recalled when Doria came into their lives, telling Morton that his step-mother's family, which also included her half-brother and half-sister, made him feel welcome.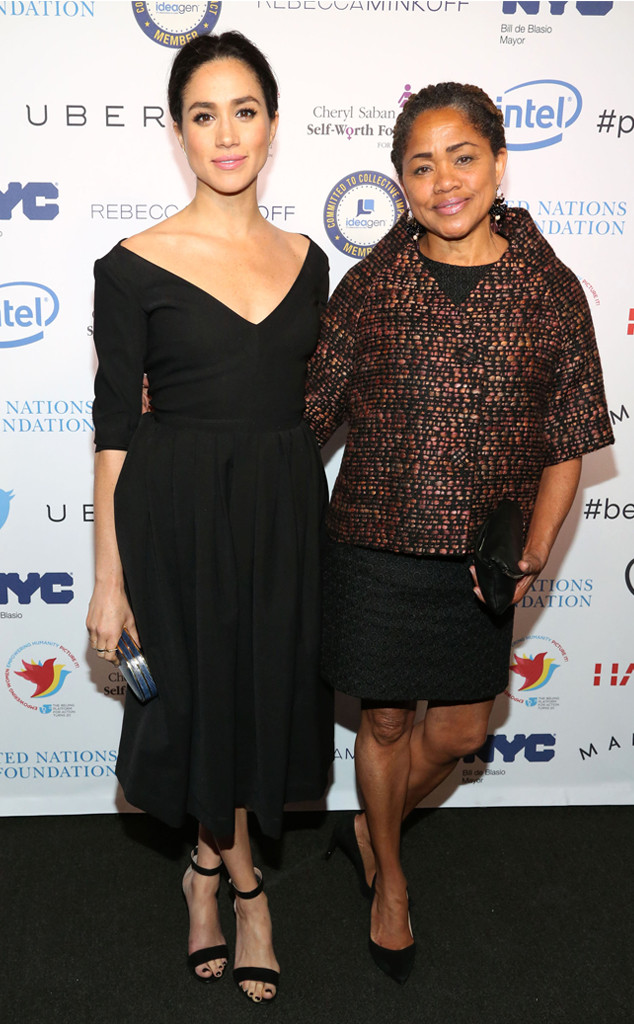 Sylvain Gaboury/Patrick McMullan via Getty Images
"My mother raised me to be a global citizen with eyes open to sometimes harsh realities," Meghan, whose mom and grandmother Jeanette called her "Flower," wrote in a 2016 essay for Elle UK. In Jamaica, "I had never seen poverty at that level and it registered in my glazed brown eyes."
Doria started taking Meghan for facials when she was 13, but also took her to visit the poorest areas of Jamaica when on vacation when her daughter was 10.
In a July 2015 essay for Elle UK, Meghan wrote about being biracial and people's subsequent efforts to define her, to shoehorn her into one box (sometimes fairly literally, as when she was told she could check only one race box on a form in 7th grade), all of which led to her feeling as though she wasn't accepted fully by any community. She recalled her mom, who is African American, being mistaken for her nanny when they were out and about in their fairly homogenous Valley neighborhood.
For Christmas one year, her dad—who told her to draw her own box the next time she was told to only pick one—bought two sets of the popular Heart Family dolls and made them into one family, with a black mom and white dad and a child of each color.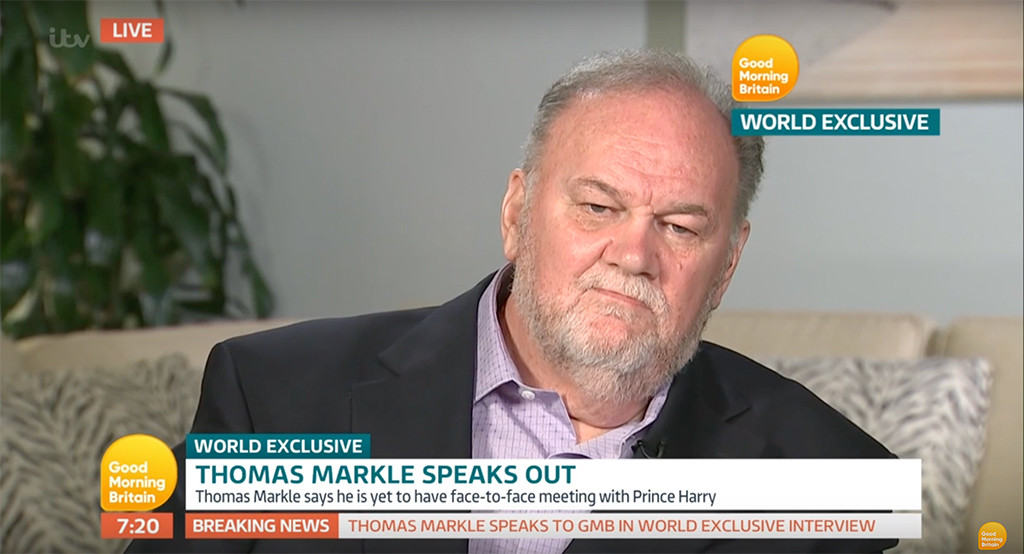 YouTube
Doria, whom Meghan has referred to as a "free-spirited clinical therapist," and Thomas separated when Meghan was about 2 and divorced when she was 6. After the split Meghan didn't see her half-siblings much—and going by Samantha's tweeted-and-televised observations about Meghan's fractured relationship with their father since she got engaged to Harry, the chances of ever having much to do with them are nonexistent.
But Meghan spent weekends with her dad, and Thomas would stay and watch TV with his daughter and Doria on Sunday nights when he brought her back.
Meghan went to private schools, her first stop being Elizabeth Taylor, Judy Garlandand Lily-Rose Depp's alma mater Little Red Schoolhouse in Hollywood.
A school friend told journalist Angela Levin that Meghan always admired Princess Diana's humanitarian efforts and was inspired to collect toys and clothes to deliver to the less fortunate. When she was 10 and the Gulf War was happening, she staged an anti-war protest at school in response to a classmate who was worried about his brother in the military.
Meghan also had early concerns about gender inequality: She wrote Procter & Gamble a letter when she was 11 protesting a dish soap commercial with the line "women all over America are fighting greasy pots and pans." She also shared her concerns in letters to first lady Hillary Clinton, Nick News host Linda Ellerbee, and activist attorney Gloria Allred, all of whom communicated their support. P&G didn't, but a few months later, after Ellerbee did an interview with Meghan, "women" was changed to "people."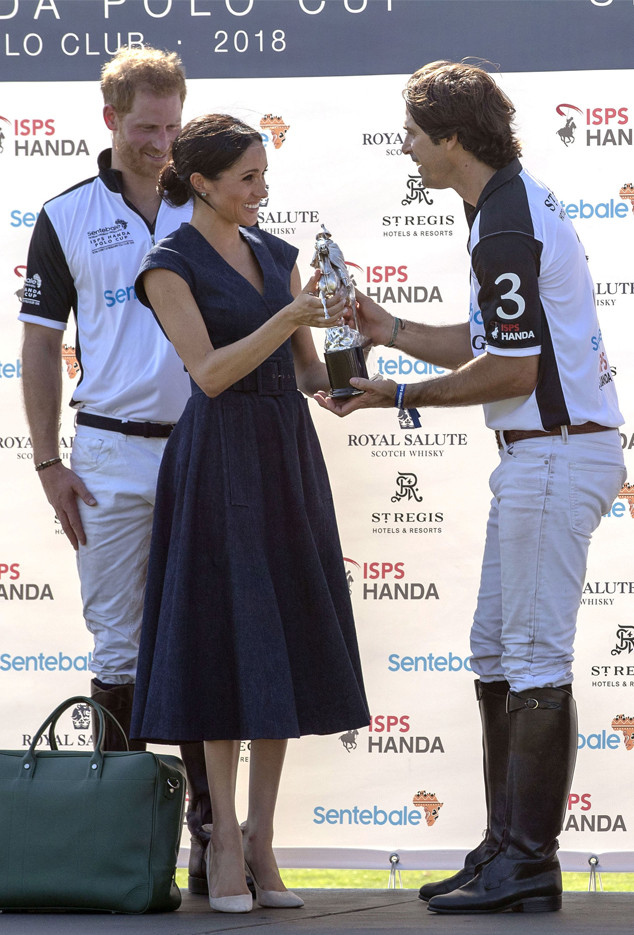 Steve Parsons/PA Wire
"She was a genuinely decent human being who looked out for people who needed help," Little Red Schoolhouse classmate Elizabeth McCoy told Morton for his 2018 book Meghan: A Hollywood Princess. "She gave a damn about people other than herself."
Financed by Thomas Markle's $750,000 state lottery win in 1990, Meghan went to high school at Immaculate Heart, an all-girls Catholic school in the L.A. neighborhood of Los Feliz that today costs up to $15,200 a year. Her dad worked in Los Feliz, so Meghan lived with him during the week.
Meghan worked part-time at a frozen yogurt shop (she has said that a pleasant run-in with Baywatch star Yasmine Bleeth inspired how she later treated her own fans) and, when she was 16, she started volunteering at the Hospitality Kitchen, a Catholic Worker-run shelter on L.A.'s Skid Row, serving food and clearing tables.
And in 1997, according to Morton, she and her friends cried watching Princess Diana's funeral, featuring a somber 15-year-old Prince William and 12-year-old Prince Harry walking behind their mother's casket in the procession toward Westminster Abbey. The tragedy piqued Meghan's interest in the royals, and she's said to have sought out video of Diana and Prince Charles' 1981 wedding and immersed herself in the late Princess of Wales' story.
Meghan would later say that she joined clubs in high school in part so that she would have people to eat lunch with, but she performed in school plays, stealing the show as the devilish vixen Lola in Damn Yankees; had a steady boyfriend and was homecoming queen her senior year. So, not exactly an outcast.
Her high school graduation was held at the nearby Hollywood Bowl, and in addition to her diploma, Meghan was given awards for grades, service and her participation in the arts. That summer an audition for a Shakira music video didn't work out, but she landed a part in Tori Amos' video for "1000 Oceans," shot in a downtown L.A. parking lot.
The first in her immediate family to go to college, Meghan went to Northwestern University in Evanston, Ill., where she double-majored in theater and international relations, dated a basketball player (until he transferred to Wake Forest) and enjoyed partying. When she was 20 her uncle helped her get a six-week summer internship at the U.S. Embassy in Buenos Aires.
Amanda Edwards/Getty Images
Meghan's first appearance on a TV show was on General Hospital, a small part her father helped her get when she was on break in 2002.
Though at first glance her various pursuits might be at odds, she saw the connection between politics and acting. "They're both negotiating drama, but in a different way," she pointed out. "It's understanding personalities, triggers…There's a really strong parallel in that and as an actor, the more life experience you have, it makes you a better actor."
After graduation, she returned to L.A. to pursue the profession for the long haul, driving a Ford Explorer with broken door locks she couldn't afford to fix, so to reach the passenger seat, she climbed in through the back.
She worked as a hostess at a Beverly Hills restaurant and put her private-school handwriting lessons to use, supplementing her income in between auditions working as a freelance calligrapher for special events. Among her most memorable pen work: Robin Thicke and Paula Patton's wedding invitations, and Dolce & Gabbana's celebrity correspondence.
"I think handwritten notes are a lost art form," Meghan mused to Good Housekeeping for its August 2016 issue. "When I booked my first pilot, my dad wrote me a letter that I still have. The idea of someone taking the time to put pen to paper is really special."
Source: Read Full Article