Nick Cannon Gifts Bre Tiesi Luxury Car After Her Child Support Comments
Sharing a photo of the 'Selling Sunset' star with her brand new black Lamborghini, the host of 'The Daily Cannon' stresses that his money is his baby mamas' money.
AceShowbiz –Nick Cannon has treated one of his six baby mamas Bre Tiesi to luxury. After Bre was caught on camera talking about Nick not having to pay for child support, the host of "The Daily Cannon" revealed that he had gifted the "Selling Sunset" star a Lamborghini.
On Saturday, May 20, the 42-year-old multi-talented star made use of Instagram Story to share a photo of Bre with her new luxury car that he gave her. In the snap, Bre could be seen leaning on the black Lamborghini as she smiled from ear to ear in an all-black ensemble.
Over the snap, Nick declared, "Nope! The government don't have to tell us to pay child support. WE PAY LAMBO SUPPORT!!" He went on to shower Bre with praises as he wrote, "Congratulations Boss Lady!! [red heart emoji]. You're killing it!!"
The host of "The Masked Singer" further pointed out, "My money is their money. Just accept it, we different over here!! LOL." He was referring to the mothers of his children, Bre, Mariah Carey, Brittany Bell, Abby De La Rosa, Alyssa Scott and LaNisha Cole.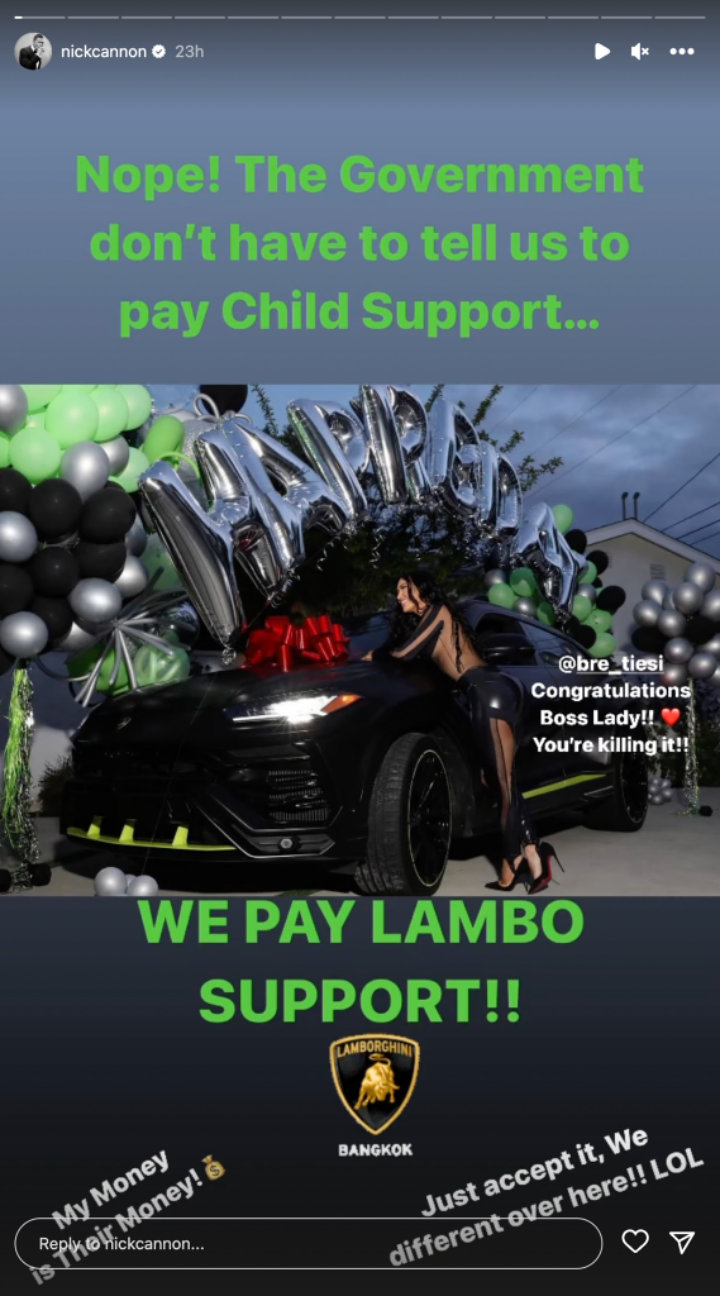 Nick Cannon shared a photo of Bre Tiesi with her new luxury car.
Bre talked about child support in a new episode of "Selling Sunset". Upon receiving a question from co-star Amanza Smith whether someone with 10 children does not need to pay for child support, Bre replied, "That's true."
Bre went on to explain, "The way it works is like, after 10, the court can basically say he can't afford to pay child support. Or, because he is who he is, they could say, 'We know you can afford X amount…' for each household."
"There's no legal agreement. We don't have any of that. I take care of myself," Bre further revealed. "And if my son needs something or we need something, I can ask. That's all I have to do. I know he's a good dad.."
"And Nick is not my sugar daddy. Nick is not my reason that I'm where I'm at — he's none of these things. It's stupid," she further stressed. ."I can make crazy money by myself. I can carry my lifestyle, which is not cheap. I can carry my child and my own s**t."
In response to Bre's statement, her lawyer Neama Rahmani said in an interview with Us Weekly on May 19. "Bre, you should know better! That is absolutely not true," Neama disagreed. "There's no cap on child support based on the number of children. So, to the extent that Nick Cannon can have babies, he owes child support for those babies under California law."
You can share this post!
Source: Read Full Article