Rebel Wilson on getting what you want: 'If you manifest, I really do think it comes true'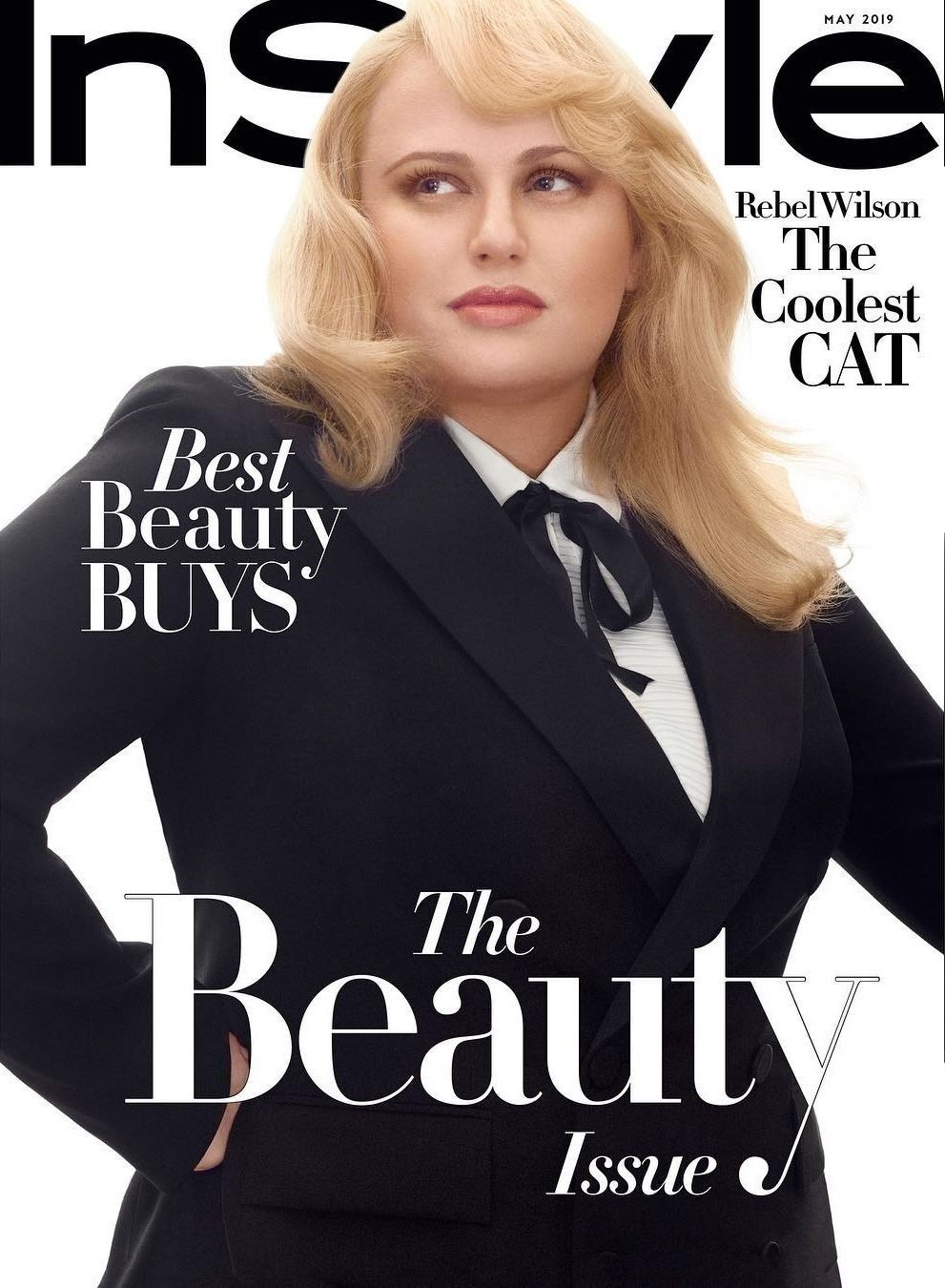 Rebel Wilson covers the May issue of InStyle to promote The Hustle, the remake of Dirty Rotten Scoundrels, where she and Anne Hathaway are the "scoundrels," the con artists who try to seduce rich men for profit and hilarity. While I'm usually on the "stop all of these damn remakes" train, I'll admit that I really laughed at the trailer for this remake, so I hope it's good. Rebel was quite chatty with InStyle, but this interview was different than some of the interviews I've read from her in years past – she's very chilled out and mature-sounding, and quite reflective of how her career has already been bigger than she dreamed. You can read the full piece here. Some highlights:
Being the kind of woman who gets the cover of InStyle: "There is no way on earth I thought this would happen because — I'll put it this way — I never got anywhere because of my looks. I got places because I had a good brain and a good imagination. Only since moving to the States was I like, "People pay attention to what I wear. I should try to class it up a little bit." I like being comfortable, and I come from a family where people didn't really care what you looked like. They didn't judge you on that."

She didn't get her nails done until she was 25: "I had friends whose mothers told them to always be put together and to look a certain way when you leave the house. I was the complete opposite. No one in my family went to the beauty salon. I didn't even get my nails done until I was 25. It took my best friend Nick looking at my feet one day and going, "You should maybe do something about your nails," for me to realize that I should go to a nail salon. Now I'm obsessed with going. I'm there every two weeks.

She knows how to dress now: "Through working with my stylist, Elizabeth Stewart, I've learned all these little tips and tricks — and they really work. Then you feel more comfortable when you have to dress up. I remember I didn't even go to a friend's wedding in my 20s because I didn't know where to buy a dress in my size. Now it is the opposite. Now I have a wardrobe full of custom Givenchy.

She's driven because she wants to be financially secure: "I think it comes from not having much as a child and seeing other people have stuff and just wanting to be financially secure. I always wanted to make something of myself. And, weirdly, I always believed I would be rich and successful even as a very young child, and I would say that to people. If you manifest [what you want], I really do think it comes true. It's not so much about having money. I like doing good, charitable things."

She might have a career in politics: "I have this weird feeling that I might go into politics in Australia…I like fighting against injustice. Even though there are plenty of injustices and my defamation case was not the biggest, it's an example of Australian culture trying to tear down successful Australians. I think that is the opposite of what we should be striving for. Anyone who has made a success of themselves out of Australia, if they represent their country well, they should not be torn down. That kind of cultural thing, tall poppy syndrome, is just very negative and toxic. One thing I've always really liked about America is that it celebrates success, which I thought was a very positive cultural attribute.
[From InStyle]
She's right about Tall Poppy Syndrome – it's a thing in Australia and in the UK especially. When someone stands out for their success or effort or money, everyone wants to cut them down. I honestly think that's a minor part of what's happening to the Duchess of Sussex too – she was seen as too individual, too remarkable, too clever and too much of a change-maker. So people tried to cut her down. As for the rest of what Rebel says… she sounds like she's in a really healthy place mentally these days. But this is bullsh-t: "I always believed I would be rich and successful even as a very young child, and I would say that to people. If you manifest [what you want], I really do think it comes true." No. I'm not saying it's dangerous or stupid or whatever – mantras are helpful, and it's helpful to verbalize or write down your dreams and desires and prayers. But that doesn't mean you're making your dreams manifest by verbalizing them.
A post shared by instylemagazine (@instylemagazine) on
Cover and Instagram courtesy of InStyle.
Source: Read Full Article