Royal Relatives Who Have Been Arrested
The following article includes mentions of addiction, domestic violence, and sexual assault allegations.
Can the Queen of England get away with murder? The answer is probably, but we're also probably never going to find out. Aside from the fact that such a crime is an absurd notion, it's even more absurd to think of a legal case titled "the Queen versus the Queen." According to British Heritage, since she's the head of the U.K.'s justice system, every court case is "the Queen versus" something or the other. Queen Elizabeth's got both "sovereign immunity" and "diplomatic immunity," meaning she can't be subject to criminal or legal proceedings in the U.K. and pretty much anywhere else — but royal relatives aren't as lucky, at least not all the time.
Royals can be arrested, as long as it's not in front of the Queen or at Buckingham Palace. In fact, royals are arrested, but rarely those in Queen Elizabeth's bloodline. Instead, we find the majority of royal-adjacent arrests coming from relatives who are connected to the British royal family through nothing but marriage. From Princess Diana's mother to Meghan Markle's estranged family, these royal relatives have all been cuffed.
Did Sarah Ferguson's bachelorette party almost end in the back of a police van?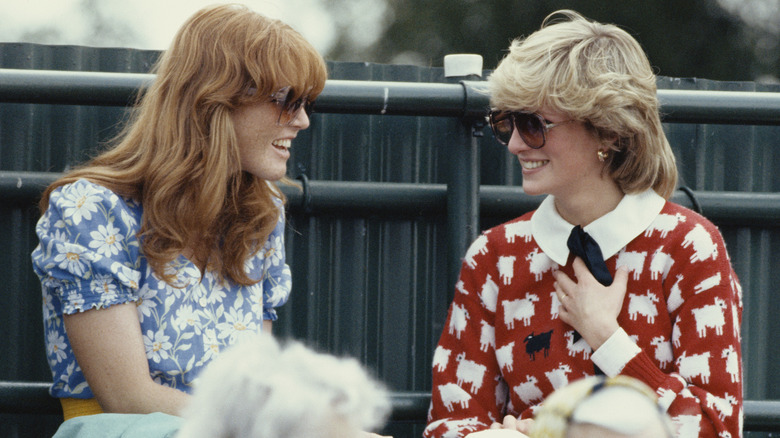 Apparently, royals get rowdy during their bachelorette parties just like everyone else. Unlike everyone else, they've got a trail of paparazzi. We have no way of verifying if this tabloid report is true, but if it is — and we sincerely hope it is — then Fergie is definitely invited to our bachelorette party.
According to royal biographer Sarah Bradford, who spoke to the Daily Mail in 2019, Sarah Ferguson and Princess Diana were thrown into the back of a cop car during the Duchess of York's hen night after a prank gone wrong. The pair reportedly "wore grey wigs, dressed up as policewomen" and "pretended to arrest" a sex worker "outside of Buckingham Palace," a heavily policed area where impersonating an officer is probably a big no-no. The police didn't seem to get the joke and apparently took the women into custody — at least, until the officer realized that one of the people in the back of his van was the Princess of Wales. "He was so shocked he couldn't believe it," Bradford said. The pair were reportedly released, only to prank the police again when Prince Andrew tried to pull into the Buckingham Palace gates later that night.
"None of this would have occurred to Diana without Fergie's bad influence," Bradford claimed to the Daily Mail. "A member of staff said Fergie had her own agenda and used to get Diana into trouble and then disappear."
Royal relative Mark Phillips puts the 'law' in brother-in-law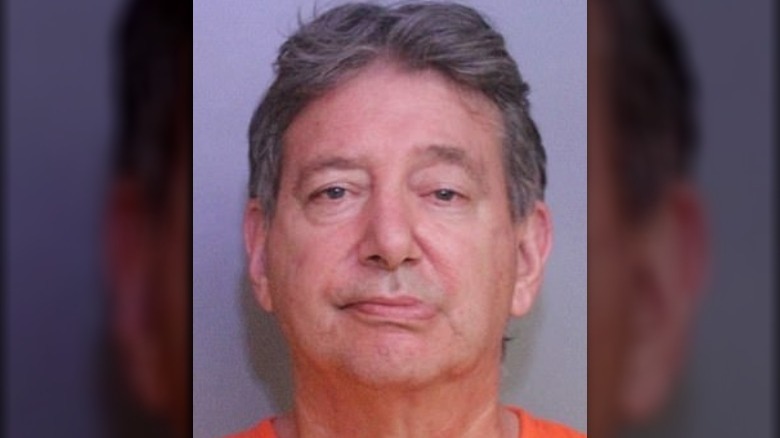 Meghan Markle's family has been stirring up tabloid controversy since her relationship with Prince Harry went public. Her father, Thomas Markle, has regularly run his mouth in the press. Her half-sister, Samantha Markle, who reportedly called the duchess a "social climber" with a "soft spot for gingers," wrote a tell-all book supposedly exposing juicy details about her life. Though their controversies usually regard family gossip and name-calling, Meghan's brother-in-law graced the tabloids on Christmas Eve in 2020 for an actual arrest.
The Daily Mail reports that Mark Phillips was "charged with domestic violence" after an alleged dispute with Samantha. The couple were reportedly arguing about the wheelchair-bound author "needing help to use the toilet" when Phillips allegedly hit her "on the right side of her face." Though he reportedly "fled the scene," police arrested him after determining he was "the primary aggressor."
According to The Daily Beast, Phillips' court date was set for January 19, 2021, but it's unclear what happened after that. As the publication points out, the couple previously made headlines "for calling the police and speaking to the press about a car accident that appears to have never happened."
If you or someone you know is dealing with domestic abuse, you can call the National Domestic Violence Hotline at 1−800−799−7233. You can also find more information, resources, and support at their website.
Who's picking up Meghan Markle's half-brother from the drunk tank?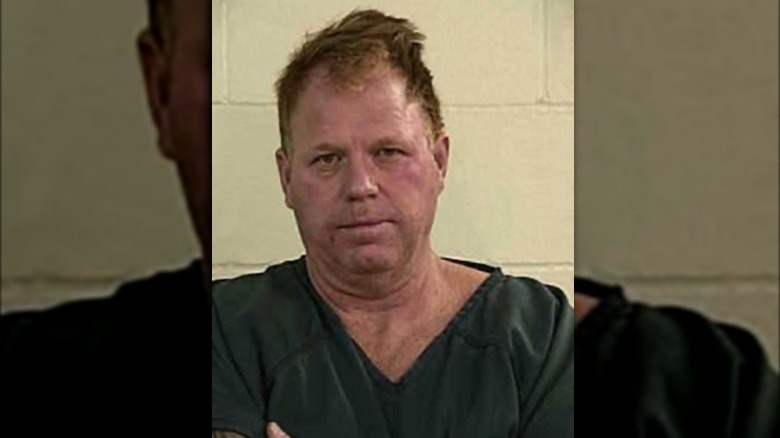 Another day, another mugshot from a member of Meghan Markle's estranged family. This time, the mug belongs to the Duchess of Sussex's half-brother, Thomas Markle Jr., who's unfortunately no stranger to run-ins with the law — especially when alcohol is involved. As his father once told TMZ, he's got a "serious problem" with booze.
According to USA Today, which obtained the Oregon State Police's report, Markle Jr. was cuffed in 2019 for a DUI after allegedly appearing "visibly intoxicated" and failing field sobriety tests. As a result, his car was impounded and he was sent to the drunk tank (or "detox," as the outlet more eloquently called it). There, he was given a breathalyzer test, which concluded that his blood alcohol content was .11 percent, quite a bit over the .08 percent legal limit. This was not his first offense.
The Times reports that Thomas Markle Jr. was also arrested in 2017 after an alleged domestic incident. He reportedly got into an alcohol-fueled argument with his now-fiancée, Darlene Blount, in which he allegedly threatened her with a gun. When those charges were dropped, Thomas Markle Jr. got down on one knee, and the pair lived happily ever after. Just kidding — their legal issues have unfortunately persisted.
If you or anyone you know is struggling with alcohol and other addiction issues, help is available. Visit the Substance Abuse and Mental Health Services Administration website or contact SAMHSA's National Helpline at 1-800-662-HELP (4357).
If you or someone you know is dealing with domestic abuse, you can call the National Domestic Violence Hotline at 1−800−799−7233. You can also find more information, resources, and support at their website.

The couple that gets arrested together also gets tabloid headlines together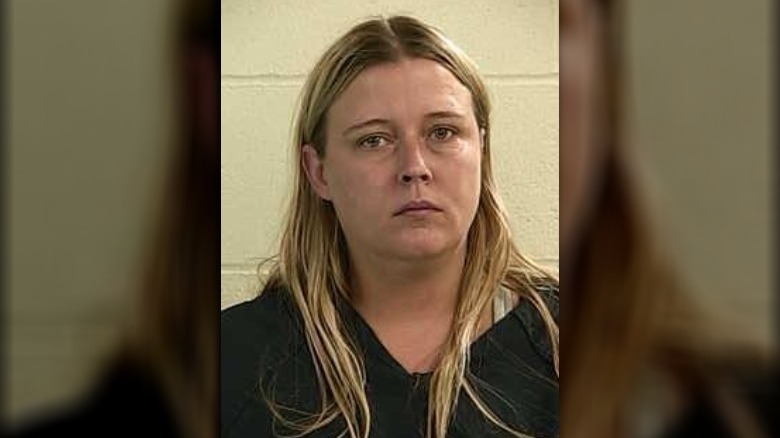 Though Darlene Blount isn't technically a member of Meghan Markle's family yet, it seems it's only a matter of time. That also means that her indiscretions are tabloid fodder, and this includes her own domestic violence charges. Not long after Thomas Markle Jr. was arrested for allegedly waving a gun at Blount's face, Blount was also arrested — and according to The Sun, it was her "second arrest in just seven months."
Per the tabloid, in July 2018, Blount was cuffed in the early hours of the morning after a domestic dispute with Markle Jr., during which Blount allegedly punched him in the face and injured his right eye. She was subsequently charged with "two counts of assault" and spent the night in jail. After posting her $1,000 bail, Blount was released under the condition that she steered clear of her fiancé and the home they shared. 
According to The Sun, Blount faced a nine-hour trial the following year, where she was "found not guilty of both charges" after Markle Jr. admitted his injury was self-inflicted. This is reportedly also what Blount initially told a 911 operator when she called for assistance.
If you or someone you know is dealing with domestic abuse, you can call the National Domestic Violence Hotline at 1−800−799−7233. You can also find more information, resources, and support at their website.
Wearing a tiny towel turned into a felony for Meghan Markle's nephew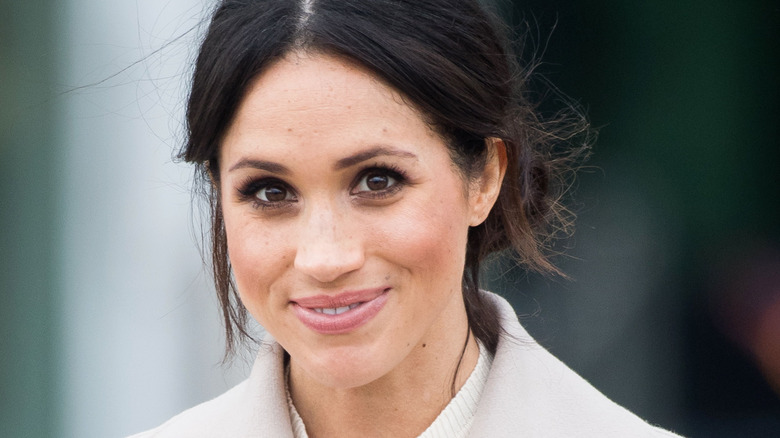 It makes sense that the only time we'd hear about Meghan Markle's extended family is if they're getting in trouble with law, considering the tabloids live for that kind of stuff. Arguably, it's one of the only reasons gossip rags exist, but most of us can agree that when the duchess' nephew was arrested in 2019, it was a little head-scratching.
According to TMZ, Thomas Dooley — who probably calls the duchess "auntie," depending on the level of estrangement — was allegedly spotted "shouting gibberish" as he meandered down the street in nothing but a "small towel." An onlooker called the police, but Dooley was reportedly not having any of it. When authorities appeared, he allegedly "defiantly began walking away" and was tackled by officers.
Dooley's alleged indiscretion probably carried some legal repercussions on its own (TMZ cites a probable misdemeanor), but an officer apparently sustained a knee injury in the scuffle. That made it a felony, and Meghan's nephew was charged with "felony resisting arrest." As for the reason behind the madness? Officers told TMZ that drugs were at play.
Pippa Middleton's father-in-law said bonjour to Paris with an airport arrest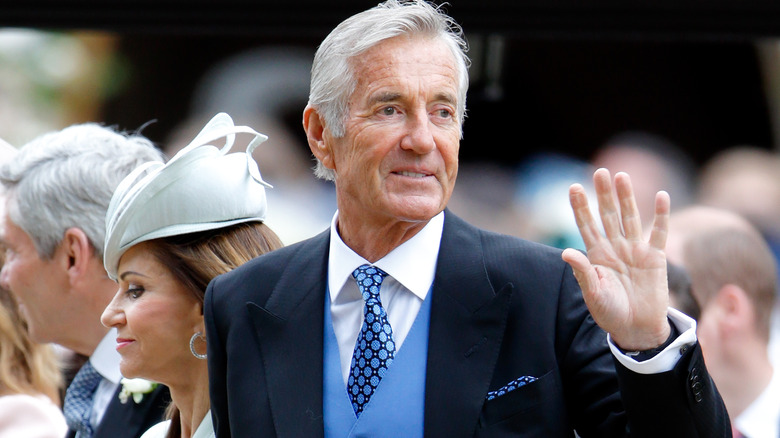 Kate Middleton may have a squeaky clean royal image (aside from that time she scandalously wore a sequined halter top), but the same can't be said for younger sister Pippa Middleton's side of the family. The Sun reports that in 2018, Pippa's father-in-law was arrested at an airport in Paris and charged with raping a minor.
According to The Telegraph, David Matthews — who's also the father of "Made In Chelsea" star Spencer Matthews — was "placed under formal investigation" by French authorities, about a year after he was accused of sexual assault. Per The Sun, the unnamed woman claimed she was "groomed and assaulted" in the late 1990s "when she had just turned 15." The first crime reportedly happened on St. Barts, where the hotelier owns a luxury hotel (you can count the likes of Rihanna as a former guest), and the second allegedly occurred in Paris.
This wasn't Matthews' only accusation. He was also investigated in the U.K. for allegedly raping a woman in the 1980s. She came forward about a month after the hotelier's Paris arrest. According to The Sun, the investigation was dropped in 2019. Matthews has denied all claims, but at the time of this writing, the French investigation is ongoing.
If you or anyone you know has been a victim of sexual assault, help is available. Visit the Rape, Abuse & Incest National Network website or contact RAINN's National Helpline at 1-800-656-HOPE (4673).
Princess Beatrice's convict ex-boyfriend is the reason most of us don't marry our high school sweethearts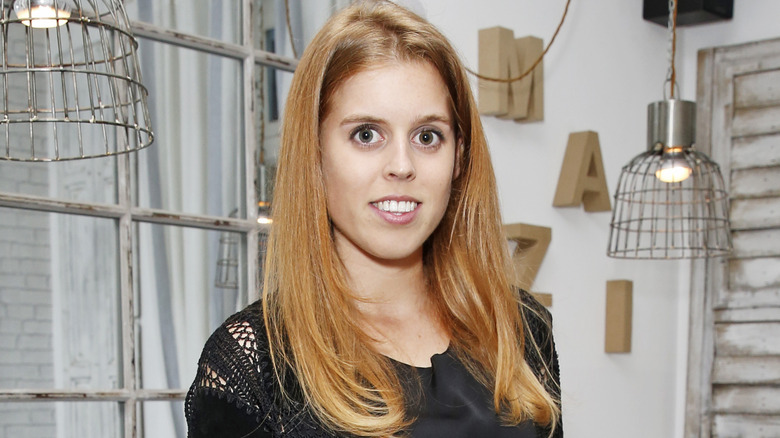 Princess Beatrice has led a low-key life compared to her cousins, Prince William and Prince Harry. Those are just the perks of being further down the line of succession, but that doesn't mean she never falls prey to the tabloids. In 2006, that subject happened to be her convict then-boyfriend, Paolo Liuzzo. According to Metro, the pair had been secretly dating since 2005, when Beatrice was 17 years old, but it was only a matter of time before tabloids would find the receipts of his sordid past.
According to the Daily Mail, Liuzzo was charged with manslaughter in 2002 after he was involved in a "drunken brawl" that killed a student in Worcester, Massachusetts. This charge was later bumped down to "assault and battery," per Metro. Though Liuzzo was found guilty, he avoided jail time with a community sentence (flouting parole some years later when he visited Switzerland with the royal family).
Beatrice's relationship didn't last long. The pair called it quits not long after Liuzzo's conviction hit headlines. Three years later, the Daily Mail reported that Liuzzo crashed a rented car on Australia's Gold Coast after he reportedly fled from a casino "without paying his bill." According to the tabloid, he was charged with "disqualified driving, unlawful use of a motor vehicle, two counts of fraud and possessing two grams of cocaine."
This royal relative's extra-curricular activities led to a scandalous arrest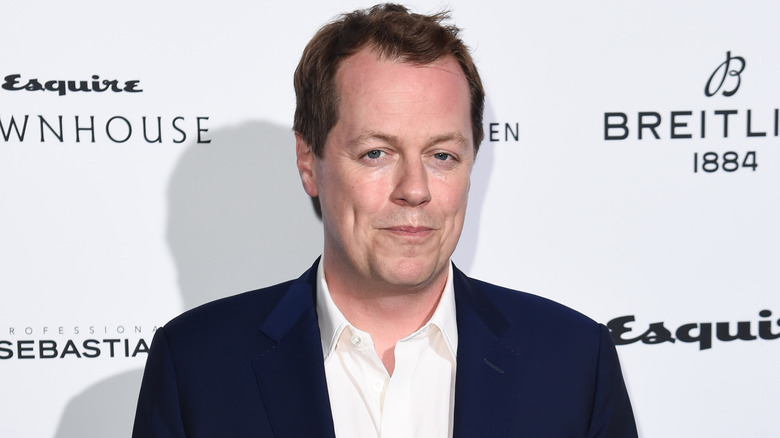 Camilla Parker Bowles' affair with Prince Charles isn't the only scandal on her side of the family. The Duchess of Cornwall had a son — who's actually Prince Charles' godson — before she became a royal, and back in the 1990s, he was arrested while studying at Oxford.
According to the Oxford Mail, Tom Parker Bowles was reportedly "known as a heavy drug user" on campus (in addition to being the so-called "baron" of the Assassins, a hard-partying secret society). He even allegedly helped procure drugs for his friends. "He seemed to be able to get pretty much anything I needed — cocaine, cannabis, Ecstasy," a former classmate claimed to the Oxford Mail. "He certainly liked to party and drugs and alcohol were a very important part of his life. They were an important part of a lot of people's lives at Oxford and from what I understand, they still are."
It didn't take long for Tom's alleged drug use to catch up to him. In 1995, the then-20-year-old student was arrested outside of a London nightclub for "carrying small amounts of ecstasy and cannabis," according to The Herald. He was let off with a warning.
Princess Diana's mother was arrested for a DUI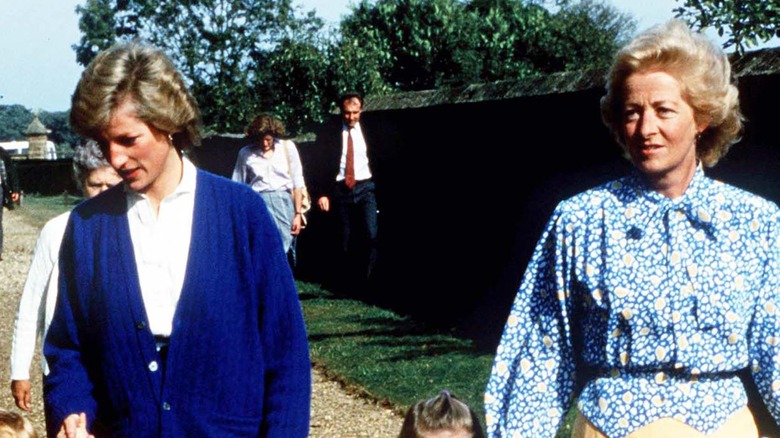 Princess Diana had a complicated relationship her mother, who left when she was about five years old. In this regard, she's not that dissimilar to Meghan Markle. In the same way that the Duchess of Sussex stands by while her estranged family filters in and out police custody, Diana watched her mother navigate a DUI.
According to The Herald, Frances Shand Kydd was arrested for drunk driving in 1996 after being stopped in Oban, Scotland with a blood alcohol level "more than two and half times the legal limit." She denied the charge, but was found guilty after a three-day trial and received the statutory minimum sentence. This wasn't Kydd's only charge, though. The grandmother of Prince William and Prince Harry was also charged with "failing to give a roadside breath test without reasonable cause," but she was acquitted. 
At the end of the day, she received just a year-long ban from driving thanks to her driving record, which had been clean for 42 years.
Mike Tindall reportedly 'laughs' when asked how many times he's been arrested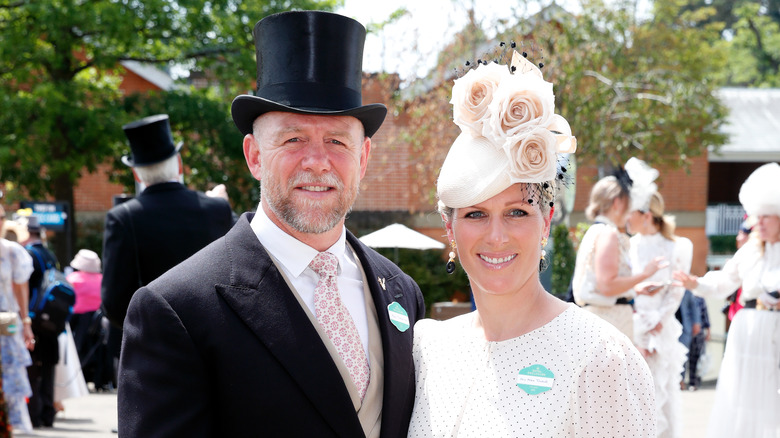 Every family has a black sheep, and for the royal family, that's not limited to the sheep on Princess Diana's iconic sweater. As the Mirror described it, Mike Tindall is quite possibly Queen Elizabeth's "grandson-in-law from Hell." Ouch.
In 2011, the hard-partying rugby player married the Queen's eldest granddaughter, Zara Phillips, ushering a wave of raucous boys trips and past convictions into Buckingham Palace. "It was clear Zara was never going to marry a wealthy aristocrat or foreign royal," a source told the Mirror. "Mike might be a bit of a bruiser, but her family all know he will never let her down."
Tindall has two drunk driving convictions, and according to BBC News, he was banned from driving in 2009. Prior to the incident that got his license revoked, he reportedly drove after drinking "three beers followed by seven glasses of champagne," and then another beer, and then a vodka and Red Bull. At this point, the Mirror claims the rugby star reportedly "laughs it off" when asked how many times he's been arrested. His hard-partying antics even got him fired from England's national rugby team, according to the Daily Mail.
Source: Read Full Article