Sooooo These Met Gala Moments Were Hella Awkward for Everyone Involved
Thanks to Meghan Markle and Prince Harry, Monday, May 6, 2019 will forever be known as "Royal Baby Day" in the hallowed halls of Cosmopolitan.com, but it's just our luck that we've got another thing to go wild for today: the Met Gala! Fashion's annual night out is now upon us, and with a theme like "Camp: Notes on Fashion," it basically required celebrities to push themselves out of their comfort zones.
Celine Dion had no idea what the theme meant
Celine Dion came to play with her sparkly headpiece and Oscar de la Renta outfit, but she left an E! reporter speechless when she admitted she had no idea what the "Camp" theme meant.
"I was a little bit confused when I heard 'Camp.' I thought it meant 'camping.' We're going camping! We're going to be at the Met and everyone is going to stay and sleep all night together. But no," she said.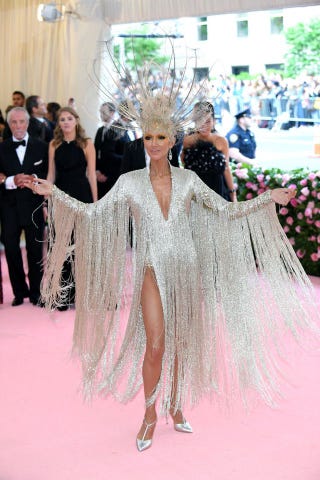 Well, she eventually figured it out. Maybe.
To be fair, she was definitely NOT the only one super confused by the theme…
A bunch of dudes put in literally zero effort
While Lady Gaga was out here quick changing in and out of four outfits with props and choreography, some people opted for plain black (admittedly well-fitting) suits instead. Even though the theme was literally CAMP.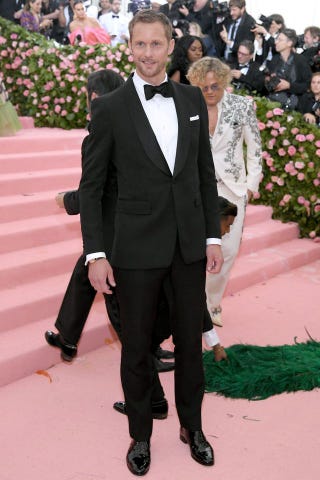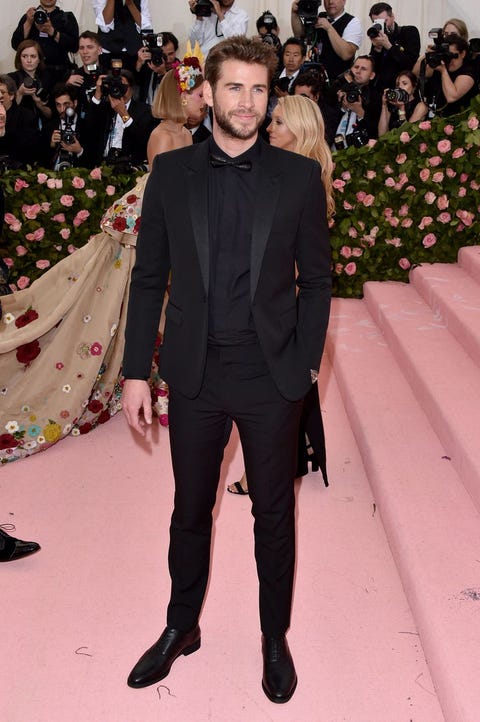 Naturally, people called it out, and it was kind of cringey all around.
#MetGala
Enough with these plain black suits. There's a theme and I'm disappointed pic.twitter.com/0gmWObZ17Q
Every man coming to the #metgala with a plain black or white suit with some decorative design on the lining thinking they following the theme pic.twitter.com/j80VSgA9yS
Men really be showing up in plain black suits 🙄🤦🏻‍♀️ #MetGala pic.twitter.com/z4FIXqipZY
…and Karlie Kloss got dragged for being right there with them
Karlie Kloss' dress got fully dragged on Twitter for being too plain, and it is tough to watch.
Miss this is the #MetGala not a McDonalds drive thru pic.twitter.com/qcyD2Irhju
a moment of silence for karlie kloss, she ain't dead but her fashion is #MetGala pic.twitter.com/9Rvc6mabho
Kanye fully wasn't paying attention when he was supposed to be doing interviews with Kim
Kanye West and Kim Kardashian arrived and walked the walk on the Met Gala red carpet, but when it came time for interviews, only Kim seemed invested.
Watch Kanye awkwardly look anywhere but the interviewer:
[email protected] and @kanyewest have finally arrived ✨ #MetGala2019 #MetGala pic.twitter.com/VcaivTHo9W
Katy Perry hung out by herself singing "Chandelier," while dressed as a chandelier
Okay, so some people might call this a MOMENT, but others…maybe not.
You asked for it, here is Katy Perry as a chandelier, singing chandelier #MetGalapic.twitter.com/MsjBXHrT42
truly katy perry's greatest virtue is that she is not afraid to look like an idiot pic.twitter.com/bLxLomHSIR
Some guy ignored Alex Rodriguez and Jennifer Lopez to place another star's dress near their feet
C'mon dude. Watch where you're putting that dress train.
Who is this loser throwing her train on JLo and Arod????? #Metgala pic.twitter.com/2DCxpS90A2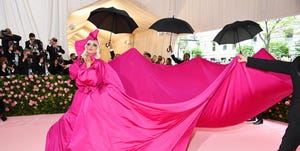 Source: Read Full Article