Taylor Swift Is "Proud" of Selena Gomez for Shading Justin Bieber in Her New Songs
Welp, just when we thought the Selena Gomez and Hailey Baldwin feud was dying down, another mini drama brewed up amid the release of Selena's recent songs, "Lose You to Love Me" and "Look at Her Now." Taylor Swift—who totally does not get along with Justin Bieber in any way, shape, or form—is reportedly supporting Selena's decision to drag Justin in her music.
According to an Us Weekly source, "Taylor Swift is a huge supporter of Selena and the shade she threw at Justin has made her proud," meaning that Taylor likely has not gotten over her drama with Justin and/or Scooter Braun. "The song was inspired by Selena's breakup from Justin," a separate source told Us after "Lose You to Love Me" dropped last week. "It's actually about finally being able to love yourself and moving on from a toxic relationship."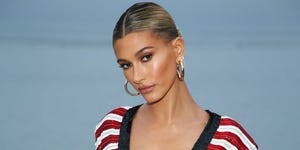 After the song came out, Taylor publicly congratulated Selena. "This song is a perfect expression of healing and my absolute favorite song she's put out yet," Taylor wrote on her Instagram Story. "A triumph. I love you so much @selenagomez."
It sounds like Tay caught wind of Selena's recent interview with Ryan Seacrest. During Selena's appearance on Ryan's radio show, she hinted that she experienced heartbreak at the hands of Justin more than a few times because he'd often run to other girls as soon as their relationship got rocky. Selena said:
Welp, Taylor and Justin's beef aside, Taylor's a great friend for supporting Selena during this special time. And besides, what best friend wouldn't support the shading of a sh*tty ex-boyfriend???
Source: Read Full Article