Thomas Markle Felt 'Personally Attacked' By Lifetime's Latest Prince Harry & Meghan Mar
Thomas Markle has some notes on the new Lifetime movie, Harry & Meghan: Becoming Royal!
Meghan Markle's estranged father slammed the film, which told the story of the Duke and Duchess of Sussex's "pivotal" first year of marriage, following its TV premiere on Monday, telling TMZ that he was very "disappointed" with how he was portrayed.
Calling the TV movie "awful and chock full of made up crap," the 74-year-old lighting director said he felt "personally attacked" by how Becoming Royal made him look like a villainous, deadbeat dad who "bailed" on walking his daughter down the aisle during her wedding to Prince Harry last May.
In reality, as Thomas reiterated, he couldn't attend the ceremony due to his health — and he feels that the film took the low road by twisting what really had happened.
He explained to the outlet:
"I'm incredibly disappointed in how the flick portrayed us in the run-up to the royal wedding and feel personally attacked by the network."
As for what Thomas feels is the insulation that he "never told Harry and Meghan that he couldn't make it to the wedding," the former actress' poppa insisted:
"It's simply not true."
The piece of "dumb fiction," as Mr. Markle calls it, is a sequel to 2018's hit TV movie A Royal Romance.
Becoming Royal picks up where the first film left off, showing Meghan (Tiffany Smith) struggling to transition from actress to British royalty, and an ever-thoughtful Harry (Charlie Field) helping her every step of the way, mostly by gently wiping away a single, beautiful tear as it majestically cascades down his bride-to-be's face.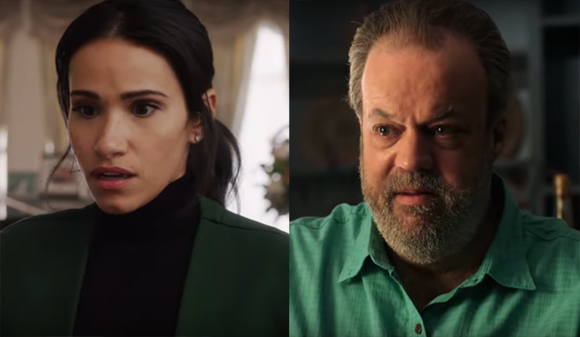 At one point in the film, Thomas' infamous staged paparazzi photos come up, with Meghan dramatically confronting her father (Bruce Blain) by saying:
"Daddy, you did stage those photos."
Yup… Lifetime went there.
Sure, Meg's dad is probably right to call this movie "dumb fiction" — but doesn't he understand that that's exactly why we enjoy watching them?!
Hopefully, Thomas will enjoy the inevitable third film of Lifetime's Royal trilogy (to be titled Royal Forever or Look Who's Royaling, Now, we hope) better than this one.
Did U watch Becoming Royal yet? Watch the trailer (below) to get a taste of the magic!
Source: Read Full Article