Tory Lanez Models Ankle Monitor as Hes on House Arrest Until Megan Thee Stallion Trial Begins
The 'Say It' rapper posts the very first picture of his ankle monitor as he is stuck at home awaiting his trial for the shooting case involving the Houston Hottie at the end of the month.
AceShowbiz –Tory Lanez has shared a glimpse of his house arrest to the world. Taking to his social media account, the "Say It" rapper posted a photo of him wearing his ankle monitor as he's placed on house arrest until his trial begins for the alleged shooting of Megan Thee Stallion.
On Monday, November 7, the 30-year-old hip-hop star turned to Instagram Story to let his nearly 12 million followers know what his ankle monitor looked like. In the picture, it could be seen "The Color Violet" spitter wore it on his left ankle while sporting a pair of orange Marni sandals.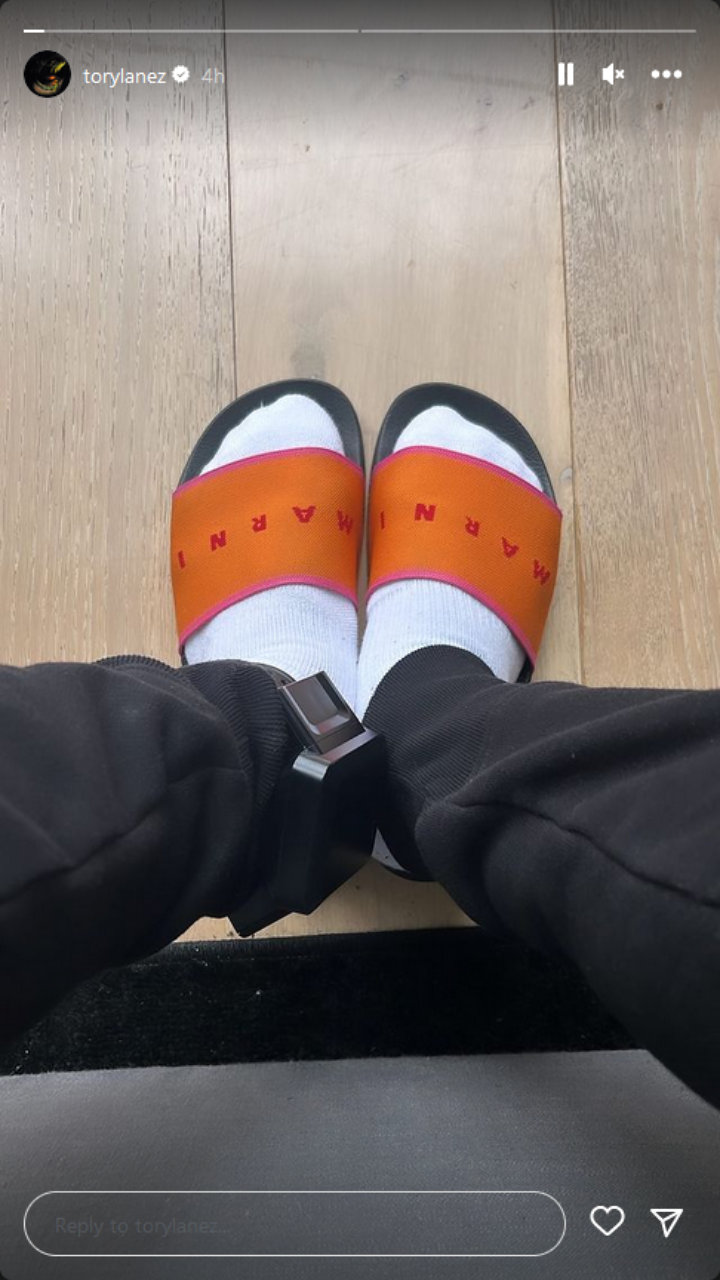 Tory Lanez showed his ankle monitor after being ordered to house arrest until Megan Thee Stallion shooting trial begins at the end of the month.
Tory started the home confinement on October 31. The Canadian native will remain at home until the trial begins on November 28. The trial, in which Tory is accused of shooting at Megan and wounding both of her feet in July 2020, was set to kick off in September but was ultimately pushed back after Tory asked a judge to delay the start date due to his legal counsel being preoccupied with other trials.
Tory's defense lawyer, Shawn Holley, is currently busy with the arbitration of Los Angeles Dodgers pitcher Trevor Bauer, who is embroiled in a legal battle with his sexual assault accuser. He's also representing actor Danny Masterson in his serial rape trial set to begin on October 11. Speaking to TMZ in September after Judge David Herriford granted a request for delay, Tory said that he's "chilling."
Though so, Tory told DJ Akademiks that he needs to be careful about everything he says as he's "facing 24 years" in prison. "I am in an open case and maybe I make this s**t look really beautiful, but I am facing 24 years, I'm making s**t look beautiful, don't I? But guys, I am actively facing 24 years next month," the emcee explained. "Like this is no play play situation. I've been in this for three years. I've never played internet games with you guys. I'm not gonna start now."
Source: Read Full Article