Who Are Simone Biles Parents?
Simone Biles is the absolute G.O.A.T. — no one's arguing that she's the greatest of all time anymore. She's set to head to Tokyo for her second Olympics and is a favorite to win a second Individual all-around gold medal in gymnastics.
On June 29, 2021, Biles shared her excitement over being officially named to her second consecutive Team U.S.A. gymnastics squad on her Twitter account. She posted a picture with her fellow 2021 gymnasts all grinning gleefully and wrote, "WE'RE GOING TO TOKYO! such a surreal feeling. I can't believe I made the Olympic team for a 2nd time & I'm beyond excited to represent Team USA. This is just the beginning of the journey. thanks for all the endless support & love. I couldn't ask for better support."
Speaking of support, Biles' parents supported her in the sweetest way at the Olympic Trials as well. Ron and Nellie Biles wore matching red t-shirts with Simone's motto of "Because I can" written on the front. So, who are Biles' parents? Keep reading to find out!
Simone Biles was adopted when she was 6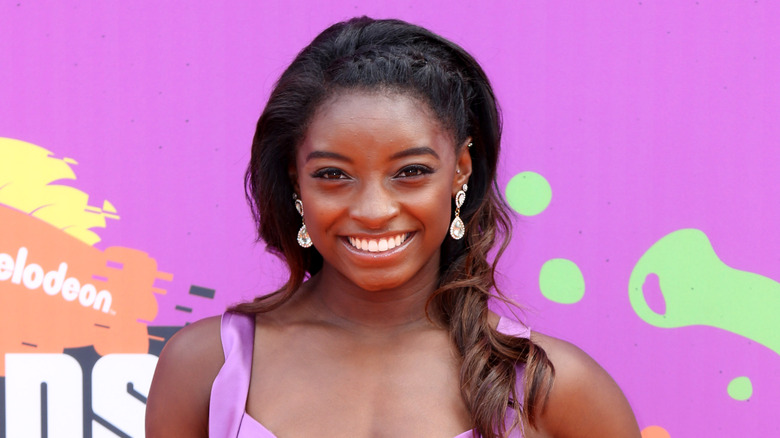 Simone Biles was born in Ohio in 1997. On the third episode of her Facebook Watch series "Simone vs Herself," Nellie Biles revealed that Simone's biological mother couldn't care for her four children as she was an alcoholic and drug addict. She and her three siblings were placed in foster care.
Fortunately, her maternal grandfather Ron, an Air Force veteran, and his wife Nellie, a retired nurse, adopted Simone when she was 6. They also adopted her little sister Adria, per Good Housekeeping. They moved to Texas while their older siblings Ashley and Tevin remained in Ohio with their father's sister.
Nellie talked about the early days with Simone and Adria on "Simone vs. Herself," saying, "I knew I had my own barriers because these were not my biological children. You do everything that's nurturing, that's mothering, but emotionally you still have to be there 100%. And I was not."
"I remember praying for that bonding, because telling them that you love them and you care for them, that's all words. But you wake up one day and you realize that you would do anything for these children and that you would die for these children," she said. "And when that feeling comes … that's when you know you're truly a mother."
During the 2016 Olympics, a commentator kept referring to Ron and Nellie as Simone's grandparents. He later apologized, and Biles told Us Weekly in response, "My parents are my parents and that's it."
Source: Read Full Article