Woman Who Put Gorilla Glue in Hair Goes to ER After Rubbing Alcohol Tip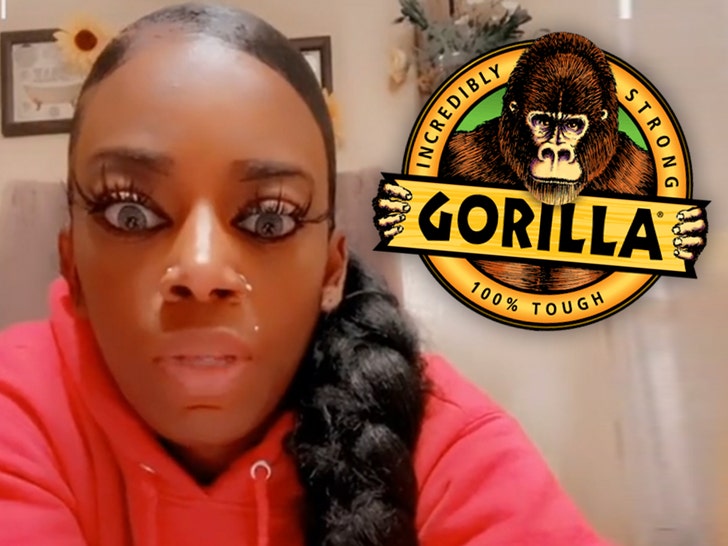 4:33 PM PT — It looks like the TikToker who put Gorilla Glue in her hair is done with at-home remedies after getting bombarded with tips from just about everyone — including GG itself — because she's finally checked into a hospital … and is already being attended to.
Waiting for your permission to load the Instagram Media.
Tessica Brown posted photos Saturday of herself going to an emergency room in what appears to be Chalmette, Louisiana. The photo she threw up from outside the facility was captioned with nothing but a couple of teary-eyed emojis.
She posted another photo of her face lying down on a bed with a healthcare worker above her with gloves on. It looks like some kind of white cream was applied to her scalp to help with the removal of the sticky substance … which has been stuck in place for a month.
Waiting for your permission to load the Instagram Media.
Tons of people are sending her well-wishes, noting that while the situation is somewhat humorous … it's also super serious and probably not very enjoyable for Tessica. Some celebs even shouted her out, including Chance the Rapper.
He writes, "I'm glad mfs actually supporting her thru this," adding … "When I watched the video the second time it was hard to laugh cause I could tell shorty genuinely didn't know she had put one of the worlds most powerful adhesives in her s***. I hope she recovers well Folded hands #gorillagluegirl."
The woman who made a huge mistake by substituting Gorilla Glue Spray Adhesive for her normal hair spray is at her wit's end … so the glue brand's coming to the rescue.
If you missed it … Tessica Brown made jaws drop on TikTok when she revealed her hair's been rockhard for about a month since her glue spray snafu, and she tells TMZ she's embarrassed, stressed, and starting to get scared.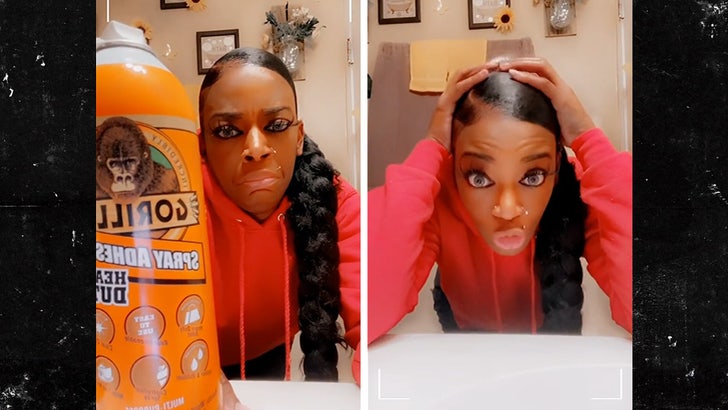 Like Tessica says in her video … she can't wash out the glue, she can't even shave it and it's getting tighter on her head … which is causing headaches.
She's considering going to the ER, but Gorilla Glue might save her a trip. The company tells us the quickest possible remedy is rubbing alcohol.
GG says … "The less aggressive solvent for her hair/scalp would be rubbing alcohol to try and saturate her hair and then gently comb it out and shampoo." Of course, it's not that simple.
Gorilla says if Tessica's hair's been stuck for a month, it's "likely fractured at the root, but we certainly hope for the best."
Tessica too! She told us she's gonna try the rubbing alcohol soon. Best wishes, girl!
Oh one more thing, as a PSA of sorts — DO NOT USE GORILLA GLUE ADHESIVE SPRAY ON YOUR HAIR. The company makes it clear that all of its products are considered permanent, and the packaging states it too. Tessica can testify it works.
Originally Published — 12:50 AM PT
Source: Read Full Article