Sorry Rothy's, Everlane's New Flats Might Just Be the Comfiest Shoes of All Time
Everlane, the sustainable fashion brand that focuses on ethics and transparency, just came out with shoes that are meant to last in terms of durability and style. You may recognize the style of the brand new Day Glove ReKnit ($98)—it looks just like the brand's classic Day Glove, their leather shoe that molds to the shape of your foot to (as the name suggests) fit like a glove.
The Day Glove ReKnit takes the comfort level up one step further thanks to an innovative knit fabric that is lightweight, super-breathable, and completely recycled (each pair is made from eight renewed plastic bottles!). So you'll definitely feel good about wearing them, too.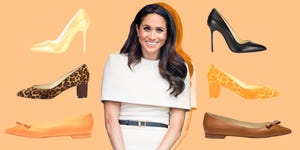 Source: Read Full Article