Britney Spears Says She Visited Sister Jamie Lynn on Set Last Week
Almost a month after revealing she'd met with mom Lynne Spears, Britney says she hooked up with little sister Jamie Lynn "on set" last week — she didn't specify which set, but "Zoey 102" is coming next month.
On the same day Jamie Lynn Spears' highly-anticipated sequel movie, "Zoey 102" dropped a trailer, Britney Spears posted to Instagram that she and her sister had hung out last week.
This marks the second family reunion Britney has commented on within the past month, following a visit from mom Lynne, which is a huge progression toward reconciliation — if that's what the family is looking to accomplish — compared to where Britney was in the immediate aftermath of the dissolution of her long conservatorship.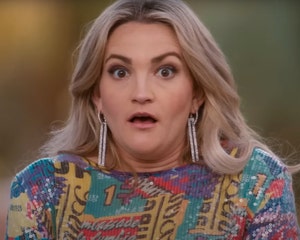 Zoey 102 Trailer: Jamie Lynn Spears and the PCA Crew Reunite for a Wedding
For weeks, Britney slammed every member of her family, accusing various members of everything from orchestrating her being put under the conservatorship, to siphoning off the millions she earned for their own personal gain. Both Lynne and Jamie Lynn were targeted, so this post month shows a definite shift in tone and attitude from Britney toward her famiy.
"It was nice to visit my sister on set last week !!! I've missed you guys so much !!!" she captioned video footage of her on vacation with Sam Aghari. "Loyal girls stay home but it's so nice to visit family 😌 !!!"
Spears also said that this marks her first vacation with her husband in a year. She certainly seems to be living it up dancing — shocker, right? — in the video. At least she changes up the scenery by dancing on a boat before diving into the water just off-shore.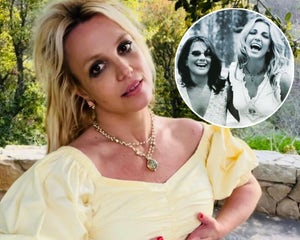 Britney Spears Opens Up About First Visit with Mom Lynne Spears After Three Years
The news comes after Lynne flew out to Los Angeles late last month for a short visit with her daughter. As reported by TMZ, Lynne spent about 30 minutes visiting with Britney and Sam. Britney took to her Instagram then to talk about her "sweet mama" coming to visit "after 3 years."
"It's been such a long time," wrote Britney, acknowledging that "with family there's always things that need to be worked out … but time heals all wounds."
"And after being able to communicate what I've held in for an extremely long time, I feel so blessed we were able to try to make things RIGHT," Britney continued, notably closing her message with the sign-off, "I love 💕 you so much !!!"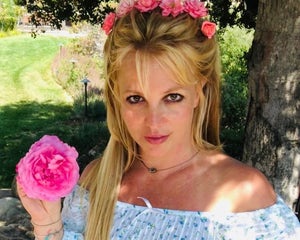 Britney Spears' 'Brutally Honest' Memoir Reportedly Done, Covers Family, Timberlake and More
Unable to render YouTube Video.
Britney didn't offer nearly as many details of her apparent visit with Jamie Lynn, including which set she would even be referring to. Jamie Lynn could have a new project not yet announced, or it's possible she's referring to "Zoey 102," due out next month.
Jamie Lynn stars and executive produces the new film which reunites much of the cast from the original Nickelodeon series 15 years later. The new story shifts to Paramount+ and sees the gang coming together for Logan (Matthew Underwood) and Quinn's (Erin Sanders) wedding.
Aside from Zoey and the newlywed couple, "Zoey 102" also features the returns of Chase (Sean Flynn), Christoper Massey (Michael Barret), Abby Wilde (Stacey Dillsen), and Jack Salvatore (Mark Del Figgalo). Missing out were Dustin (Paul Butcher), Nicole (Alexa Nikolas), and Lola (Victoria Justice).
Zoey 102 premieres Thursday, July 27 on Paramount+.
Waiting for your permission to load the Instagram Media.
Instagram Media Unavailable
Source: Read Full Article