Drake Shares Rare Photo of Son Adonis to Celebrate His First Day of School
"First Day Of School…" Drake wrote alongside a photo of his 2-year-old son Adonis getting ready for a new year. "The World Is Yours kid."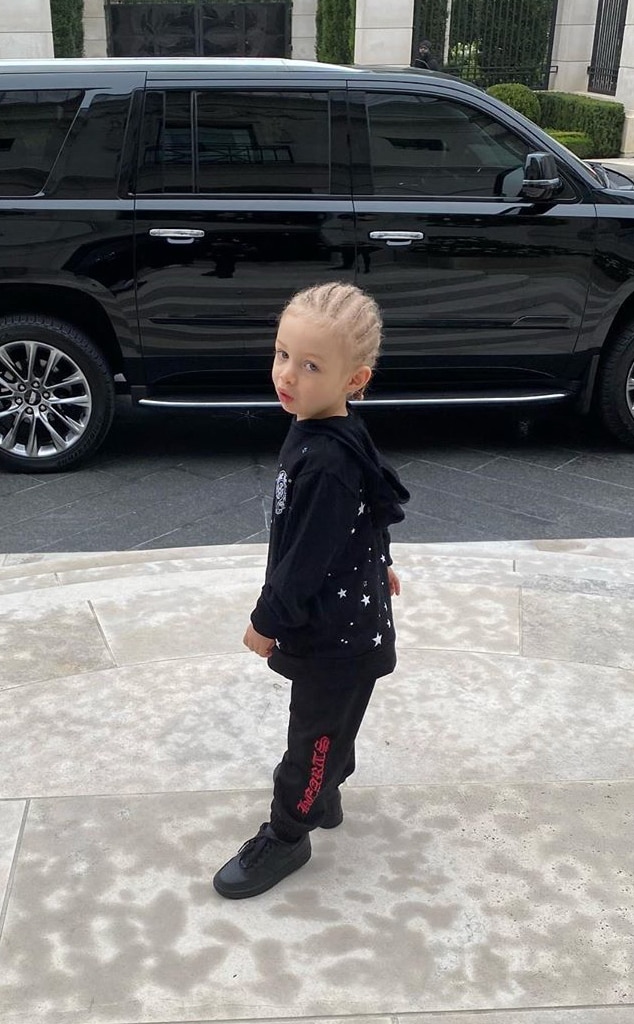 Drake is one proud papa. 
The 33-year-old rapper took to Instagram on Wednesday, Sept. 9 to share a photo of his 2-year-old son Adonis getting ready for class.
"First Day Of School…" the four-time Grammy winner captioned the sweet snapshot. "The World Is Yours kid."
Adonis' mom, Sophie Brussaux, also posted a few back-to-school pics.
While the "Hotline Bling" star tends to shield his son from the limelight, he has shared a few other photos of the young one on social media. The last image he shared was on Father's Day, which showed the little man resting in his PJs. 
"Happy Fathers Day to all the real g'z handling business," Drake wrote on Instagram at the time.
The artist first confirmed he's a dad in 2018 when he released his fifth studio album Scorpion. While he continued to give a few glimpses into his life as a parent, he didn't share photos of his son's face until March 2020. Drake opened up about the decision to publish the post during a Young Money Radio With Lil Wayne interview in May.
"It was great to just, you know, share that with the world," Drake said at the time. "It wasn't even anything I talked to anybody about or anything I planned. I just woke up one morning and I was like, you know what, this is just something that I want to do. I want to be able to go places with son and share memories with my son. I don't want to feel like just because of a life choice I made to be, you know, a 'celebrity' that I gotta like, you know, make everybody live under this blanket."
To see celebrities' photos of their kids heading back to school, check out the gallery.
Trending Stories
Hilaria Baldwin Gives Birth, Welcomes Baby No. 5 With Alec Baldwin
Why Nikki Ferrell Says She'll "Never" Be Friends With Clare Crawley
A Look At Blake Lively and Ryan Reynolds' Deeply Controversial Wedding
"Our Novalee, how are you this big already?" the Teen Mom OG star wrote on Instagram. "Man what they say is so true.. The days are long but the years go by sooooo fast! Have a great day baby girl." 
"A couple days late and my sad signs didn't survive the humidity or enthusiasm," the actress wrote on Instagram. "BUT, Monday marked their second week of kindergarten and pre-k IRL in GC and the first day of Zoom Kindergarten for Hops at her school in LA. Happy back-to-school, whatever that means to you!"
"First day of 2nd and 3rd grade for these two kiddos," the proud mom shared on Instagram. "Ace has a busted lip and Maxi has a busted chin. Finished the summer out strong #MAXIDREW #ACEKNUTE." 
"First day of school after the world's longest summer," the Real Housewives of Orange County star shared on Instagram. "#firstdayofschool #yestheyleftthehouse #hazelsnothappy #kindergarten #2ndgrade." 
"Online learning here we come!! #backtoschool," the actress shared from her Los Angeles home. 
The NBA superstar celebrated his eldest son journey to the Brewster Academy on Instagram. "I'm excited for him to go on this journey of life," he wrote. 
"Our #Senior @nataliabryant #12thgrade #distancelearning #backtoschool #KobeBryantDay," the proud mom wrote online. 
"Guess who started college today??! My sweet @arianabiermann I can't believe it!!" Kim Zolciak-Biermann shared on Instagram. "Where did the time go? She opted to stay in GA and not attend ASU due to Covid. I'm over the moon about it! The entire family is actually!!" 
"Can't believe how big our babies are getting… Another first day of school in the books," the Rascal Flatts member shared on Instagram. "Anyone else snapping first day pics this week? #DeMarcusFamilyRules."
"@acetucker had to get prepared for the first day of school at the kitchen table!" the Real Housewives of Atlanta star shared online. "A little meditation! I love this kid! Have a great and blessed Monday!"
"Aden and Ariah's thoughts of going #backtoschool are clearly different," The Real co-host joked on Instagram. "#momlife #herewego." 
"1st day of 3rd grade," the Teen Mom 2 star shared on Instagram. 
"It's official… we have a first grader," the Kittenish founder wrote on Instagram. "They say it goes by fast and they were not wrong. It feels like yesterday I was holding her in my arms at the hospital looking at her beautiful little face. She sure is growing into an incredible young lady. I'm so proud of her #firstgrader." 
"I thought for sure my teaching days were over in 2002 when I pulled away from the last high school I taught at as a Spanish Teacher and was excited about a new journey….Law School," the Real Housewives of Orange County star shared on Instagram. "18 years later and I'm sitting at my dining room table trying to teach kindergarten to two 5 year old boys for free. Well played universe." 
"School is a little different this year," the Bachelor Nation star shared on Instagram as her daughter sported Gap Kids. "Here's to 1st GRADE my love." 
"Wearing mask, and following all of the strict social distancing rules going into this school year is crazy, but necessary, and honestly… nothing is CRAZIER then the fact that I have a freaking 7th GRADER," the actress wrote online. "Me and Ivey are already counting down the minutes until we can go pick her up, we are lost without her." 
"First day of pre-k for my handsome Bubby boy!" the singer-songwriter shared with her fans. "My creative, mischievous, sweet soul is ready to conquer the world! #prek." 
"FIRST DAY of Kindergarten and 6th Grade!" the Teen Mom OG star wrote while sharing a picture of Amber Portwood's daughter Leah. 
"These are the faces I get when I say time for #homeschool again…Anyone else?" the fashion designer wrote online. 
"Me attempting to be a 'distance learning' teacher followed by the as per usual first day of school pics," the Real Housewives of Orange County star wrote online. "What an interesting time!!! Hope ur all hanging in there #firstdayofschool #2020." 
"It's a big day when your kids start school. Like bittersweet. Time just flies, they grow up so quickly I mean it was yesterday I bathed them in the kitchen sink," the Million Dollar Listing star shared on Instagram. "Today they wore their little backpacks and held hands visiting their first school and meeting the teachers and new friends. Somehow I could see into the not so far future and them graduating. It's inevitable—and exiting—but all so soon."
Source: Read Full Article