David Haye vs Joe Fournier LIVE result: Stream, latest updates and reaction
David Haye and Joe Fournier go head-to-head
Follow all the action as David Haye makes a remarkable return to the ring tonight when he takes on Joe Fournier in Florida.
Three years after being knocked out in his rematch with Tony Bellew, Haye has been lured back by Triller, the promotional company specialising in comeback and celebrity crossover fights. His opponent, Fournier, a nightclub entrepreneur, is a close friend and a fighter in his own right, having won nine professional bouts, although he's never faced anyone close to Haye's calibre.
"I remain happily retired from boxing, with no intentions to make a traditional comeback to challenge the monsters of the division but am fit and ready to prove my point against my overconfident billionaire buddy," Haye said ahead of the bout, which takes place on the undercard of Evander Holyfield's questionable comeback in a heavyweight exhibition against former UFC champion Vitor Belfort. Adding further to the bizarre spectacle, Donald Trump will provide commentary on the main event. Follow all the action live below:
Fighters still feeling each other out in fourth
Trump's bizarre commentary is sadly capturing more attention than the two fighters in the ring. The action has been a little muted, with the pair still feeling one another out in the fourth round and refusing to take any serious risks.
Vences using reach advantage
We're two rounds into this fight but Vences just seems to be edging Carroll. The American has a five-inch reach advantage and seems slightly sharper.
Trump leans towards Carroll
Donald Trump is back in position at ringside and says he admires Carroll's outspoken confidence. The fighters are in the ring and the first bell will ring imminently.
Carroll faces Vences in legitimate contest
Next up, there is a legitimate contest to savour as Ireland's former world title challenger, Jono Carroll, takes on Andy Vences in a super featherweight eliminator. Both fighters have two losses on their records and there may be no way back for the loser tonight.
Undercard results
Earlier on in the night, Anthony Chavez and Diuhl Olguin fought to a majority draw while Eliezer Silva won his pro debut, dropping Terry Roscoe in the third round of a four-round unanimous decision victory.
Trump at ringside
Donald Trump and his son are providing commentary from ringside in Florida.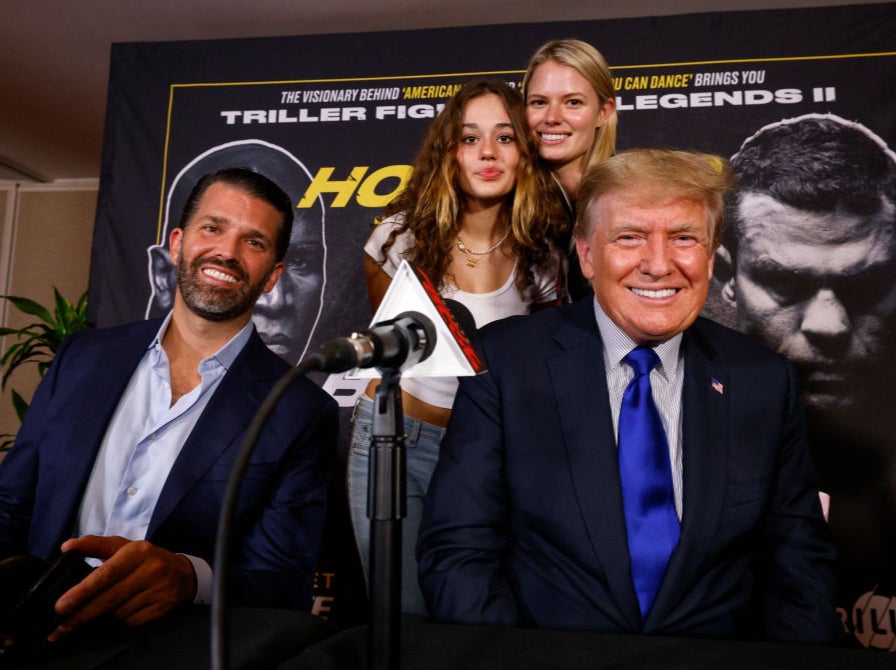 Donald Trump and Donald Trump Jr
Haye calls out Fury
David Haye proceeds to call out Tyson Fury without any hint of humour, which is as laughable as it is ludicrous.
"There's one man I'll come back to professional boxing to fight… Tyson Fury," says Haye, who twice pulled out of fights against the WBC champion. "I know his kryptonite. The old man's coming for the big dosser."
Haye wins on the scorecards
All three judges score the bout in Haye's favour: 79-72, 80-71, 79-72.
The final bell rings
As expected, that was a somewhat farcical bout between two close friends. Haye clearly won every round, but Trump insists we should wait for the scorecards as, "like elections, they can be easily rigged".
Fournier tiring and failing to land
Haye has won every single round so far and, even at 40 years old, his reflexes are far too sharp for a crude and tiring opponent like Fournier. Occasionally, the entrepreneur turned boxer is able to back Haye onto the ropes, but he does not have the class or the cunning to make a dent. Haye is carrying the bout and cruising towards a lopsided decision.
Source: Read Full Article