Does Angelina Jolie Resent Brad Pitt For Forcing Her To Marry Him?
Angelina Jolie is one of Hollywood's most glamorous actresses, with numerous hit films to her credit and a history of doing incredible charity work. However, Jolie's personal life has always been full of drama, especially when it comes to her most recent marriage to Brad Pitt.
Although Pitt and Jolie are now divorced, it seems as though the scars from the last several years of marriage to Pitt are still causing a great deal of damage to Jolie. Read on to learn how Pitt and Jolie first got together, when they divorced, and whether or not Jolie resents Pitt.
When did Brad Pitt and Angelina Jolie first start dating?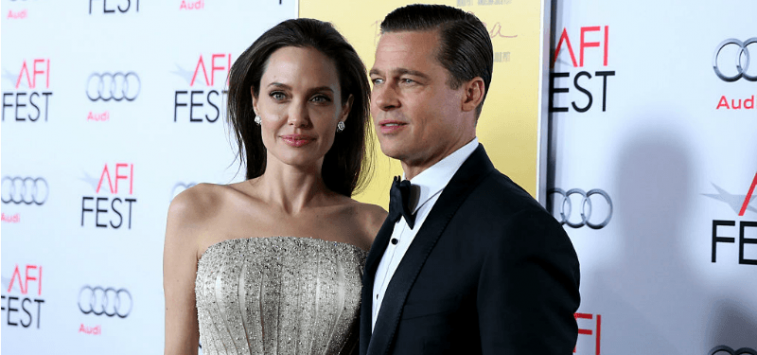 Pitt and Jolie first met in 2004, when they were filming the romantic action film Mr. and Mrs. Smith. Almost immediately, rumors started flying that Pitt and Jolie were romantically involved, even though Pitt was married to Jennifer Aniston at the time.
It is possible that the rumors stemmed from the fact that Jolie had a history of falling in love with her co-stars, or from the steamy pictures of the two on set. But, either way, the gossip was proven to be true when Pitt and Aniston announced that they were getting a divorce in early 2005.
Only several months later, Pitt and Jolie were spotted together, ostensibly very much in love. After they confirmed their relationship, Pitt and Jolie moved quickly. They adopted three children together and had three biological children over the course of the next ten years.
Although they frequently denied that they would get married until gay marriage was legalized all over the United States, Pitt and Jolie got engaged in 2012 and married in the summer of 2014.
When did Brad Pitt and Angelina Jolie get divorced?
Unfortunately, wedding bells would not mean continued happiness for Pitt and Jolie. Almost immediately after their marriage, rumors started swirling that the two were having problems.
In August 2016, exactly two years after their marriage, Jolie filed for divorce from Pitt. The reason she cited was "irreconcilable differences," but it soon became evident that Pitt's drinking was one of the factors that led to their divorce. 
The divorce ultimately took years to finalize as Pitt and Jolie went head to head in a bitter custody battle. Even though the divorce is reportedly nearly finalized, it is clear that the trauma of the past several years with Pitt has left a mark on Jolie that won't soon go away.
Does Angelina Jolie 'resent' Brad Pitt?
In a recent interview, Jolie revealed that her relationship with Pitt was in trouble for a while and that they even tried to work together on a film, By the Sea, in an attempt to salvage it. While Jolie didn't directly address the root problems within their relationship in that interview, some sources close to the actress have spoken out, claiming that Jolie never really wanted to get married to Pitt in the first place.
After all, Jolie had already been married twice before and felt that things were fine as they were. Those same sources claim that Jolie resents Pitt for pressuring her into marriage in 2014, ten years after they first became involved, and that she feels as though she will never get married again because of it.
Right now, it certainly seems that Jolie is heavily focused on her work and her children. She hasn't been spotted with any potential love interests since the split from Pitt. Only time will tell if she ever does find love in her life again, but it looks like, for now, she's not actively looking for love. 
Source: Read Full Article