Exclusive: Watch Buck find himself in a strange new world in 911 season 6 episode 11
89-1-1 season six is back – and as you can see in this exclusive clip from HELLO!, fans are about to be taken into a very different world.
Episode 11 will see Evan 'Buck' Buckley find himself in an alternate reality as he lies in a coma in the real world. The firefighter was struck by lightning from on top of the ladder truck at the end of episode ten and his heart stopped; now he is in a coma as his family waits for him to regain consciousness.
WATCH: Discover just how many changes there are for 'Evan' in this new reality.
The heartbreaking final moments of episode 10 saw Buck dangling from his harness as Eddie Diaz (Ryan Guzman) raced up the ladder, screaming Buck's name. Captain Bobby Nash (Peter Krause) was frozen in shock before he called out, "Firefighter down!" and Howard 'Chimney' Han and Hen Wilson (Aisha Hinds) rushed to get the stretcher, with Chim (Kenneth Choi) performing CPR on Buck, whose heart has stopped.
"[Buck's] certainly going to be left in a physical state and in a mental state where he's right on the verge of passing," Oliver told HELLO! last week.
"He died, his heart stopped, and he's left in this weird, alternate reality where he's somewhere between life and death and from that realm, he's able to take a look at what his life has been, what his life is and maybe what he wants his life to become."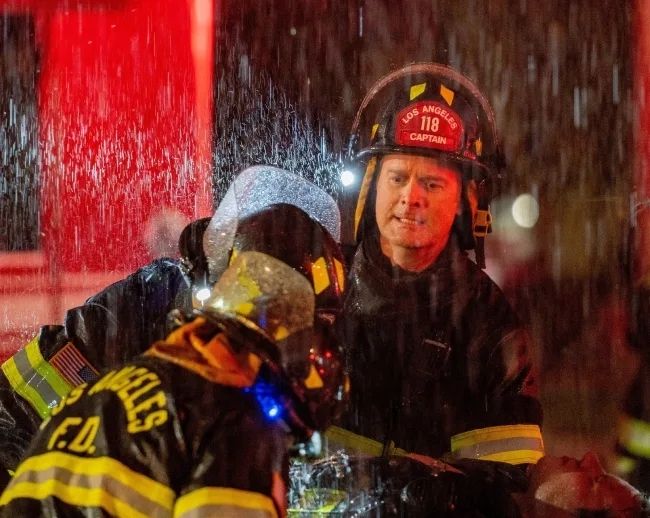 Buck was struck by lightning
Be prepared to cry though, as this strange, new world is very different to Buck's real life. And as Oliver promised, there's a scene with Chrstoper Diaz (Gavin McHugh), that "at the rehearsal had Aisha crying".
How will Buck fight his way out of the strange, new reality and back to the 118? Watch 9-1-1 on Fox on Monday March 13 at 8/7c.
Read more HELLO! US stories here
Like this story? Sign up to our newsletter to get other stories like this delivered straight to your inbox
Source: Read Full Article