Imax CEO Predicts Growth as Studios Bet Big on Blockbusters
Rich Gelfond believes Imax will get stronger as theatrical landscape shifts to shorter release windows and more event films
NEW YORK, NY – OCTOBER 10:General atmosphere during the IMAX private screening for the movie: "First Man" at the IMAX AMC Theater on October 10, 2018 in New York City.(Photo by Lars Niki/Getty Images for IMAX)
Hot off a strong October and Q3 earnings, Imax CEO Rich Gelfond predicts that his premium-format film exhibition company will be an even bigger player in the industry coming out of the pandemic as studios drive even deeper into a blockbuster-first strategy with their theatrical slates.
"The evolution of the global film industry is taking shape in ways that uniquely benefit Imax — and our market share," Gelfond said on an earnings call on Thursday. "First, Imax is in the blockbuster business — and blockbusters will grow their dominance as more mid-tier films move to streaming platforms."
Such a trend can already be seen with studios like Warner Bros., which prior to the pandemic had the first ever $1 billion R-rated hit with "Joker" but also saw a string of adult dramas like "The Goldfinch" and "Motherless Brooklyn" flop at the box office. Even this year, dramas like Clint Eastwood's "Cry Macho" and the "Sopranos" prequel "The Many Saints of Newark" failed to launch theatrically.
So while those adult dramas will still be produced by Warner Bros., many will be released on HBO Max while the studio reduces its 2022 theatrical slate to 12 films focused mostly on tentpole and event films. This is led by five DC titles, including "The Batman" and "Black Adam," along with the musical biopic "Elvis" and a third "Fantastic Beasts" film.
All of these films will be released under a 45-day theatrical window as the pandemic has pushed exhibitors to finally let go of the long-standing 90-day exclusivity period. Gelfond believes that will only mean good things for Imax.
"Given the even bigger emphasis on opening weekend, an Imax run will be even more significant for studios and consumers," he said. "An Imax release helps create a global event around a film. Studios recognize that Imax is a
window unto itself."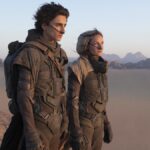 As an example, he points to the recent release of "Venom: Let There Be Carnage," which Sony moved from October 15 to October 1 to secure Imax screens ahead of the James Bond film "No Time to Die." The result was a pandemic-best $90 million domestic opening, with Imax contributing 9% of that revenue. This past weekend, the format reported $9 million in domestic grosses for Warner Bros.' "Dune," accounting for 22% of the film's $41 million opening weekend.
With over $100 million grossed worldwide this month, Imax is looking to turn a profit in Q4 for the first time since the pandemic began with films like Disney/Marvel's "Eternals," Sony's "Ghostbusters: Afterlife," Warner Bros.' "The Matrix Resurrections" and Sony's "Spider-Man: No Way Home" coming in November and December. Then, in 2022, Imax looks to capitalize on five DC films, three Marvel films, and sequels to "Top Gun," "Mission: Impossible," "Jurassic World," "Transformers" and "Avatar."
Source: Read Full Article