What Mark Zuckerbergs Wife Priscilla Chan Does For A Living
Like many tech wives, Priscilla Chan has taken a different approach when it comes to her career. As the wife of Facebook founder Mark Zuckerberg, Chan's credentials greatly exceed her husband's, who dropped out of Harvard University in 2005, according to Business Insider. Chan graduated from Harvard in 2007 with a Bachelor of Science in Biology, then attended the UCSF School of Medicine where she obtained her pediatrics degree and founded her own school in 2016, per Inc.
While Chan has never been one to brag about her achievements and remains humble in her successes, she hopes to make the world a better place with her wealth and education. "We are all more capable than we could ever imagine or admit to," Chan said in an interview with Facebook's COO Sheryl Sandberg in 2017 (via Vox) of her goals. "We need to make sure that we are using that power now, and not waiting for a different time or when we're more ready. We're ready now. We need to do."
But what exactly does Chan do for a living? Keep scrolling to find out the answer.
Priscilla Chan runs one of the largest philanthropic investment companies in the world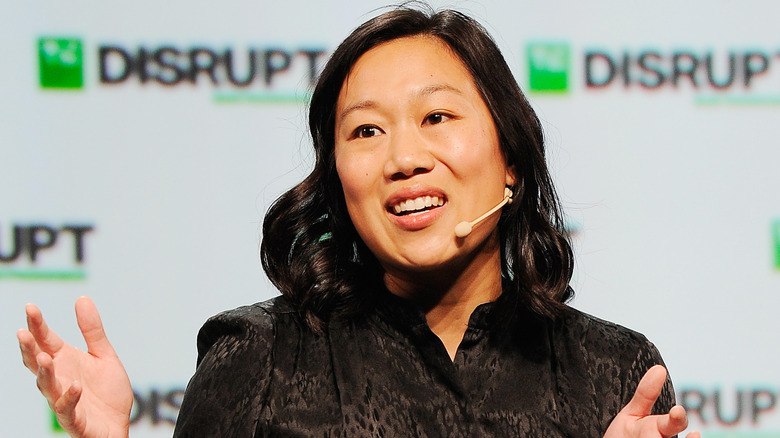 Along with husband Mark Zuckerberg, Priscilla Chan founded the Chan Zuckerberg Initiative in late 2015. According to Quartz, the initiative — better known as CZI — is "the world's best-funded startup ever," with Chan and Zuckerberg pledging 99% percent of their worth "to help prevent, cure or manage all disease over the next century."
Chan, in her role, handles the day-to-day operations at CZI, which means "overseeing an annual budget of $700 million to 800 million," according to the outlet. Recode notes that Chan "in the company's Palo Alto office three to four days a week, and meets weekly with each of CZI's top lieutenants one-on-one," and also personally approves "grants and investments on a weekly basis." These responsibilities would take a toll on anyone, but Chan enjoys the challenge and rewards of doing good for society.
"Giving back has been part of my life before I even met Mark," Chan explained to Quartz. "And then over the course of our life together, I was first in teaching and then in medicine. I kept seeing problems affecting children, students and adults….There are solutions that exist out there, but they aren't scalable and replicable. So what if we take that lens of a frontline practitioner, if we take the tool set of building technology, what niche might we be able to fill in the world of actually making social impact?"
Source: Read Full Article