'Yellowstone' Season 4 Will End On the 'Biggest Cliffhanger' According to Kelsey Asbille
ARTICLE HIGHLIGHTS
Yellowstone season 4 started off exactly where season 3 left off.
Monica and Tate also found themselves under attack in the season 4 premiere.
Star Kelsey Asbille revealed that Monica is "done" with the Dutton family and that season 4 will end on another cliffhanger.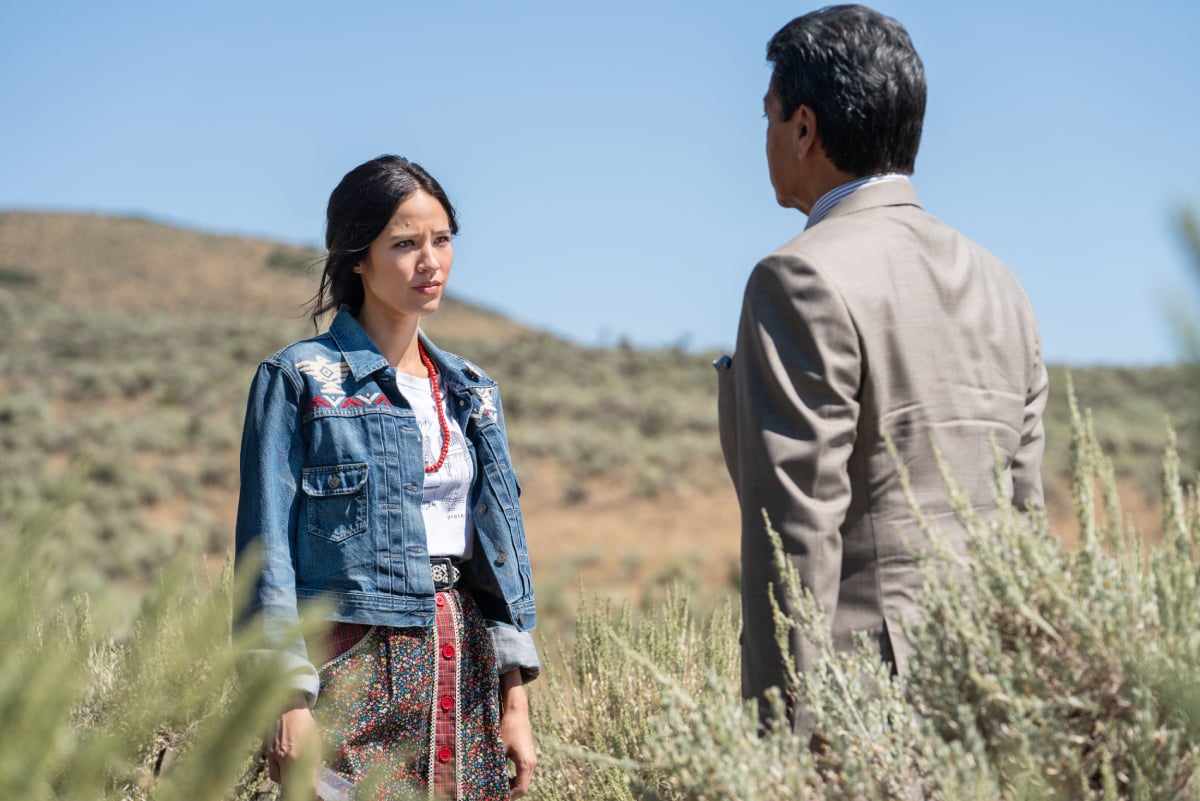 Yellowstone season 4 won't be an easy one for Kelsey Asbille's Monica Dutton. It began with Monica and her son Tate (Brecken Merrill) fighting for their lives against an intruder on the Dutton ranch.
According to Asbille, the season is only going to get darker for Monica. Especially when it comes to her marriage to Kayce (Luke Grimes). She also promises the season will end on the "biggest cliffhanger."
Warning: Yellowstone season 4 spoilers ahead!
Tate Dutton saved his mom's life in the 'Yellowstone' season 4 premiere
The season 4 premiere of Yellowstone picked up exactly where season 3 left off — with the Dutton family under attack. That included Monica and Tate, who were in the Dutton house alone when an attacker broke in to kill them.
It looked for a moment as if Monica wasn't going to make it. But Tate showed up at the last second with a shotgun and saved his mother. Ahead of the season 4 premiere, Asbille told UPI that what happened to Tate and Monica in the season opener will have an impact on the rest of the season.
"It's so intense. We are right where we left off. Monica doesn't know what she is up against and, so, Tate's safety is her No. 1 [priority]. It definitely informs the rest of the season, for sure," Asbille said.
Monica is 'done' with the Duttons
Asbille says that one upcoming episode will feature Monica confronting Kayce over his dangerous family and the consequences of living on the ranch. After everything she's been through in recent seasons, Asbille says her character is "done" with the Duttons.
"She is done… I think what she sees in him [Kayce], too, is she sees the Dutton coming out, which is really terrifying for her," Asbille explained. "She's always been a person fighting for her family. She wants to be a good mother, so this is really the tipping point and she's like, 'I'm out.'"
'Yellowstone' season 4 will end on the 'biggest cliffhanger'
Asbille believes that Monica confronting Kayce has been "a long time coming." She teased that it will open a new chapter for her character and her son. And something unexpected will bring out a different side of Monica that fans haven't seen.
"It's going to get dark and they're going to have it out," Asbille told The Daily Caller. "The end of this season for Kayce and Monica is the biggest cliffhanger they've had so far."
Monica and Tate are leaving the Dutton ranch
Asbille says that Monica and her son are leaving the ranch and will return to the Broken Rock Reservation during season 4. Monica will turn to her community and her indigenous culture as "a way of healing for Tate." This will bring Kayce in, and they will "reintroduce that world" that they left in season 1.
"[Creator] Taylor [Sheridan], at heart, is a romantic. He loves these characters and roots for these characters. Who knows what will happen, but I think they are in it for the long haul," Asbille said.
No 'Yellowstone' spinoff for Kayce, Monica, and Tate
Even though the trio will be leaving the Dutton ranch in season 4, Asbille says that fans shouldn't expect a spinoff that focuses on Kayce, Monica, and Tate. She joked, "As long as it's Kayce and Monica in space."
However, if creator Taylor Sheridan did offer her the chance to star in one of his other series in his expanding Yellowstone universe, Asbille wouldn't turn him down.
"Honestly, I've worked with Taylor for over five years and he's a really special mentor to me and I'll follow him anywhere," Asbille said.
New episodes of Yellowstone season 4 air Sunday nights on the Paramount Network.
Source: Read Full Article